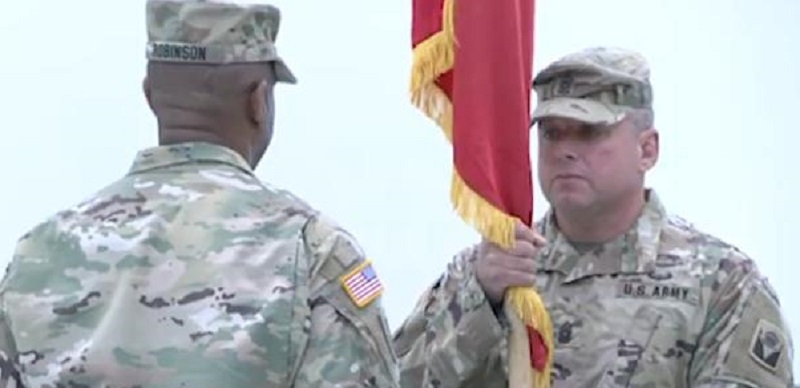 Hillsborough County Sheriff's Office (HCSO) Master Detective Jasen Pask was promoted to Command Sergeant Major Jasen Pask recently. In addition to overseeing cases as a Hillsborough County Sheriff's Office detective in Tampa, Florida, Pesk 's new role as a Command Sergeant Major will have him overseeing eight battalions with the U.S. Army Reserve.
Although it is not necessarily new that active-duty law enforcement officers in any of the 18,500 or so agencies across the United States are also military service personnel protecting and America's interests abroad, it is relatively unique to fulfill both roles while having the added responsibility of overseeing roughly 4,700 military troops.
As a retired cop whose final assignment was as a field training officer (FTO) training one new cadet at a time, my hat goes off to anyone mentoring a huge contingent of soldiers giving/receiving mutual respect for/from a leadership exemplar who happens to wear two nation-serving hats.
On its agency website, the Hillsborough County Sheriff's Office gave kudos and honor to Detective Pask, a 20-year law enforcement deputy, highlighting his military promotion as "the third-highest commander within the state of Florida."
It seems a well-deserved achievement for a true-blue man who has served in the United States Army Reserve for 28 years, wearing the distinct "MP" armband as a military police officer.
Before I achieved my assignment as a FTO many years later, I was a police academy graduate who was then assigned as a "recruit trainee" whose FTO was a 20-year military reserve guy and street cop. Like every military reservist, the occasional mandatory weekend drills were a reason I had a stand-in FTO from time to time.
The thing I remember well about cops who have had (or still serve in military capacity, like my FTO) is that duly disciplined nature and squared-away nature which any new police cadet ought to appreciate. In my years as a policeman, I worked with several street cops who had that weekend military service—sometimes it was a two-week stint afar, training in military matters.
About midway through my police training, the FTO I referenced above received orders: The Middle East would be his next duty call for one full year. As an agency, squads aggregated "supplies" (Snickers bars included) in boxes which were carefully packed/sealed and mailed oversees. It was enriching to receive emails that the packages were received and that many soldiers were appreciative of being supported by police. Irony or otherwise, that feeling was entirely mutual: Fighting for goodness and freedom of others so that others have the freedom to fight for good.
Not too many years back, the ordeal to serve as a law enforcement officer and be "called up" to mandatory service as a military member was rife with uncertainty, to the extent that such mandatory service could result in your police job not being there upon return from military mandates.
It took an act of Congress to generate the Uniformed Services Employment and Re-Employment Rights Act (USERRA) in 1994. This federal code is "intended to ensure that persons who serve or have served in the Armed Forces, Reserve, National Guard, or other uniformed services: (1) are not disadvantaged in their civilian careers [such as law enforcement] because of their service' (2) are promptly reemployed in their civilian jobs upon their return from duty; and (3) are not discriminated against in employment based on past, present, or future military service. The law is intended to encourage non-career uniformed service so the United States can enjoy the protection of those Services, staffed by qualified people [such as Master Detective/Command Sergeant Major Pask], while maintaining a balance with the needs of the private and public employers who also depend on these same individuals."
Sounds like a decent covenant whereby all parties can thrive without fear of being out of a job and/or reprisals after serving the nation. Prior to 1994, this may have been a bit more contentious. Thank goodness we have matured as a country and herald uniformed warriors whose front-line duties may cost them life. Although some hiccups still arise from time to time, USERRA has some built-in measures to troubleshoot police agencies which may harbor resentment or logistical impossibilities (a two-officer department could lose half its force when one cop is called up on military orders) or whatever, defaulting to arbitration.
It should come as nothing new that the law enforcement profession is known as "paramilitary," meaning police culture is largely adopted from military indoctrination. Heck, I've even worn camo gear for certain police training out in the field. I suspect Detective Pask is a highly trained and thoroughly experienced cop/soldier who is best suited for his new role(s). Whereas his agency, the Hillsborough County Sheriff's Office, has close to 3,500 full-time personnel led by an organizational hierarchy of command staff, Detective/Command Sergeant Major Pask will lead slightly less than 5,000 troops as a freshly-minted Command Sergeant Major.