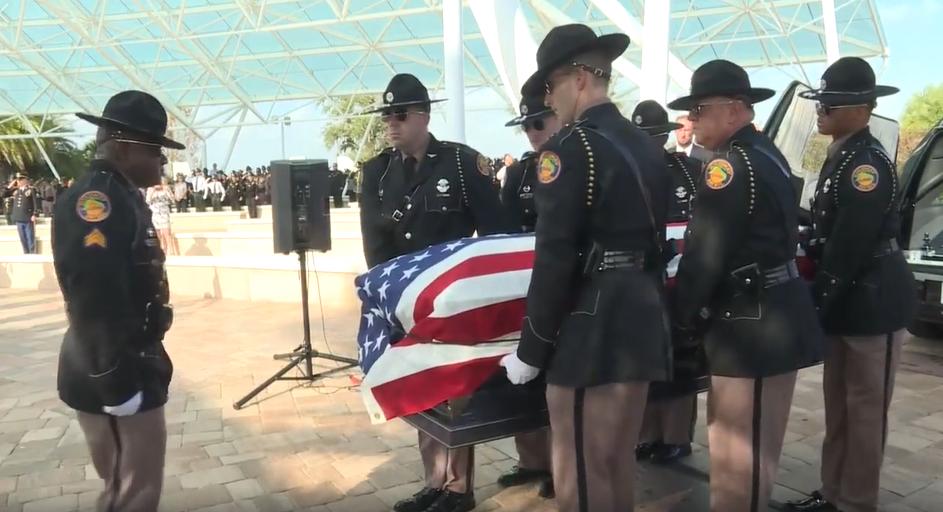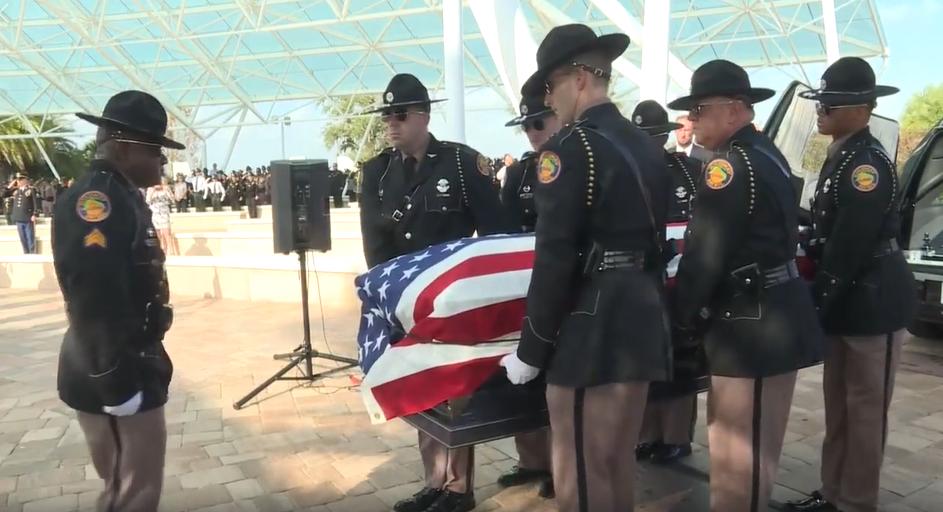 Days ago, the National Police Association (NPA) published a piece regarding the murder of Florida Highway Patrol Trooper Joseph Bullock. Today, NPA brings you a poignant perspective of what life is like as a law enforcement officer. For the murder of Trooper Bullock, I bowed my head from the opposite Florida coast from the actual crime scene. For his police funeral service, I happen to be in proximity, on Florida's west coast.
Besides the phalanx of police personnel from varying agencies in/around the crime scene on Interstate 95, a massive caravan of cops trekked across state to bring Trooper Bullock home…to his family in Sarasota County.
Of the many videos and pictures which arose from Trooper Bullock's legacy and final call, one which struck several chords commenced with the appearance of Detective Jemel Headings. Hailed as the hero he surely is, Detective Headings works for the Riviera Beach Police Department…and he is the armed off-duty cop who happened upon Trooper Bullock's homicide and wasted not a nanosecond in doing his duty: he returned fire and killed the gunman. I do not know of many (any) funeral services whereby someone in attendance receives a standing ovation. Well, Detective Headings got one. He deserved every decibel of applause
After the ovation, the remainder of this video is filled with oration…from a Florida Highway Patrol major who speaks about the law enforcement profession, its stark realities, its gloom and doom instances, and ultimately underscores a crucial point: always honor the oath.
Go out and do the job as if it is the first day in your law enforcement career. Always take the time to check on other officers on duty; stop and show solidarity, even if it seems like the so-called routine, innocuous call…like a motorist assist.
I watched the entire live-streamed service, from the church to the hour-long route to the burial site/cemetery grounds, most of the stretch was lined with cars pulled off and/or pedestrians out saluting, with hands on hearts, or holding American and Thin Blue Line flags. No police funeral is something anyone hopes to experience. Yet, the reason Trooper Bullock chose to work his entire law enforcement career with the Florida Highway Patrol is unequivocally evident throughout this entire celebration of life: honor.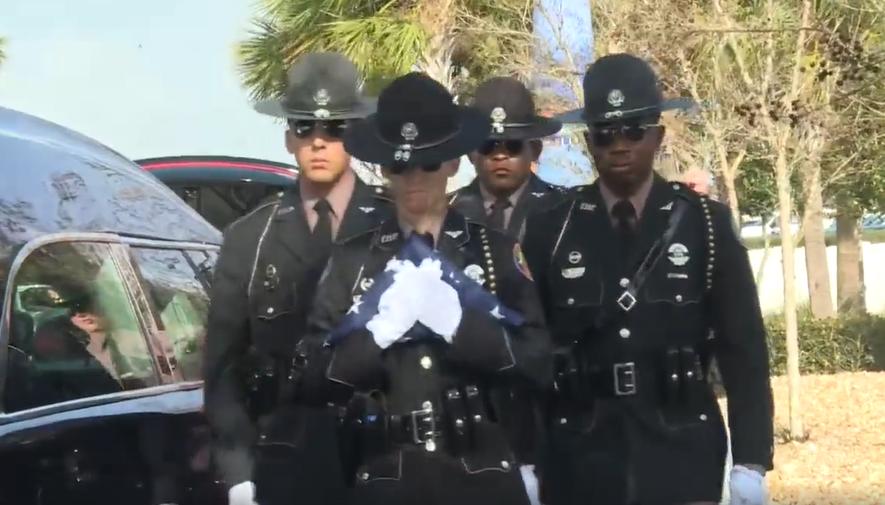 It's also about respect, too…mutual respect. As the FHP major emphasized in the brief video above: "People care about you! They really do."
The FHP Honor Guard was textbook perfect, and it seemed their aura of authenticity enveloping hearts saddened by the surreal loss of a brother trooper was enabling others to breath in strength and stand resolute, like real role models. That's what cops are destined to do: stand strong in the face of utter chaos and life-threatening menace.
The 21-gun salute resulted in a gullet gulp. The playing of "Taps" was another throat swallow. The thumph-thumph-thumph of the fly-by is worth staring into glare—sunglasses were not only covering somber, moist eyes. The encircled bagpipers were synchronized with air-filled announcements respectfully reminiscent of police sirens; quite moving. The precisely folded honor flag presented to Trooper Bullock's mom was another throat swallow followed by cloudy vision for a second. And the uniqueness of 21 spent shells standing at attention inside a glass cube presented to the surviving parents; the FHP Honor Guard sergeant walked that over as if it were a 24k diamond. It was better than that; it was 21k brass. They deserve it, all of it.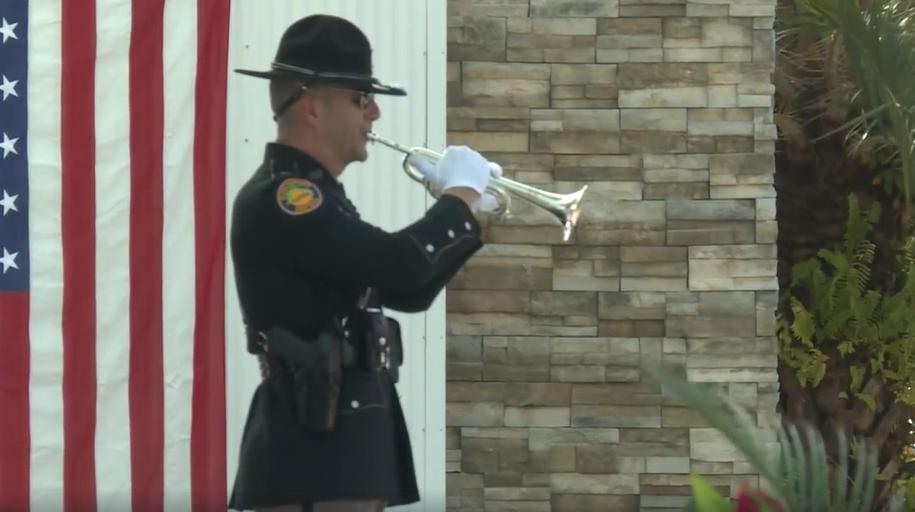 Class and honor all around, punctuated by the "final call," what no LEO anywhere wants to ever hear, ever. A note-to-self (sorta) written by Trooper Bullock on December 12 indicated a layer of his legacy: "If I could talk to my 5-year-old self…Id' say… "Hey buddy! You ready to take a journey?? We're about to do SOME cop S#$@! And it's gonna be epic! The pay stinks! But I'm convinced there's some kind of purpose…" He signed off on that with what he's lived and breathed for close to two decades: *FHP (That's all you need to dial to get them on the way throughout Florida.)
Despite the anti-cop climate…notwithstanding the tragic death of a duty-bound trooper losing his life after offering help…each of them will be back out there tomorrow.