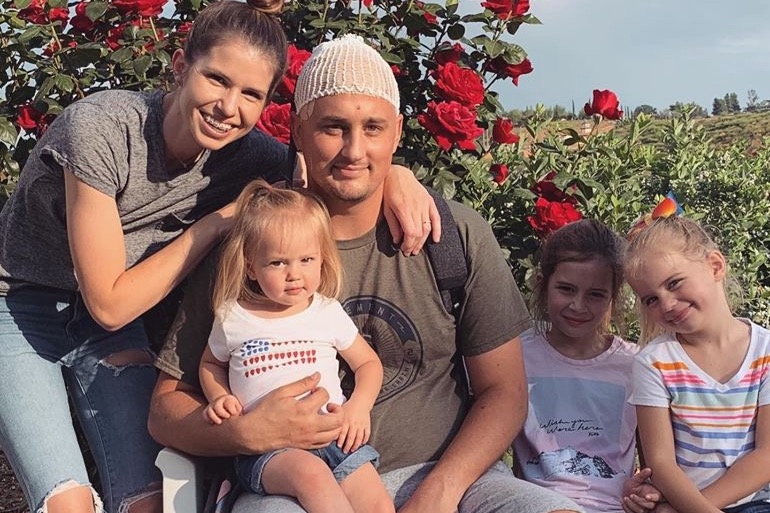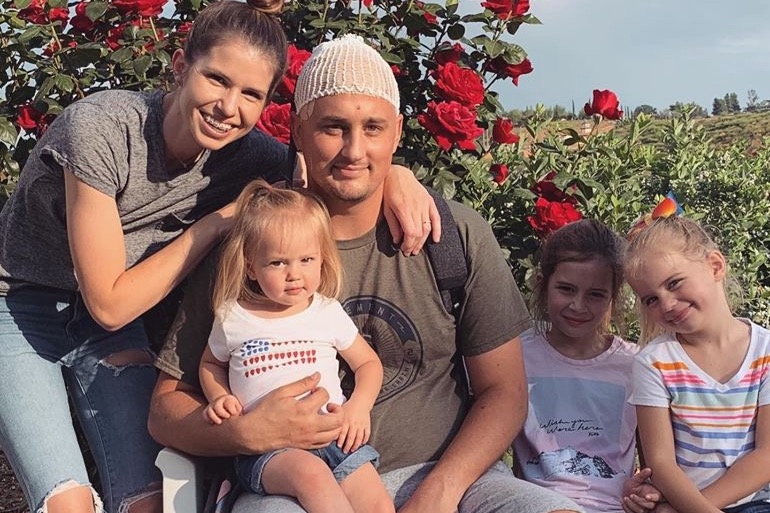 The day started off decent enough…until I came across a sad story of a cop with brain cancer whose sustenance is under assault by cancel culture folks who took offense by a modified thin blue line t-shirt used to fund-raise for Escondido police Officer Brett Byler, a 31-year-old husband and father of three young children.
Officer Byler's universal existence and sheer grace serving the citizens came crashing down in February 2020 when he went out for some exercise: a bike ride. A well-equipped and undeniably capable cyclist, Byler took a spill not from a pebble in the road or a dodging dog or a popped spoke sabotaging his mobility. Something far worse (and entirely cloaked) was going on—something neuro. In retrospect, it is fair to say the bicycle crash was a blessing in disguise, and here is why…
Four days after Officer Byler separated from his bicycle seat and hit the asphalt after inexplicably collapsing while peddling, he underwent surgery to excise a mass of glioblastoma—a severe form of brain cancer. The cloaked culprit was identified: A brain tumor measuring 5.5 cm that enlarged and breached the mid-line of his brain.
Officer Byler's dad, Jim Byler, told the media, "He went for a bike ride, and he collapsed. He went to the emergency room, and four days later, he was having brain surgery."
Officer Byler, who also served as a U.S. Marine before joining law enforcement in 2009, is a devoted husband to his wife Mariah and a dedicated father to his three young daughters: Brynlee (6), Barrett (4), and Bellamy (1). Given these deeply cherished loved ones somehow sustaining on a cop's salary while that particular cop combats cancer, Officer Byler's support network recognized the need to do something to help ensure the family got through this unexpected and horrific scenario, especially since Officer Byler's salary was the family's sole source of income.
Enter the best blue back-up ever!
According to 10 News San Diego, "Within days, a friend and employee at Palomar Hospital, where Officer Byler was doing rehab, asked if they could make a fundraiser t-shirt for Byler."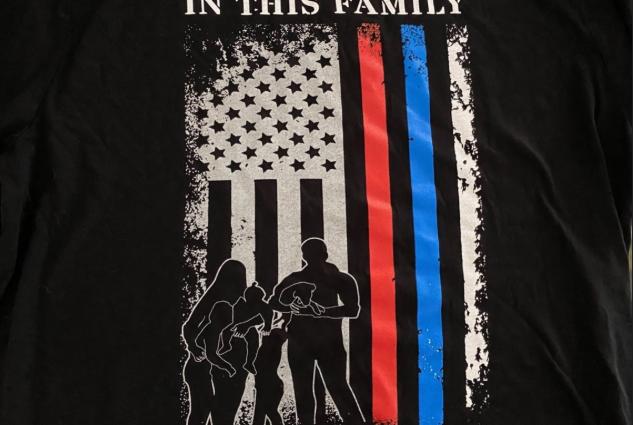 Reporter Rena Nakano wrote about her interview with Byler's dad, Jim. "I thought it was awesome. It was just an act of kindness and generosity, and it kind of overwhelmed us," said Brett's father through a stream of tears. The overwhelm to which Mr. Byler refers stems from a family friend creating a logotype silhouetted by an outline of Officer Byler, his wife and three children. This, amidst the iconic American flag portrayed with red, white and blue stripes denoting each of the public safety branches: fire services, medical professionals, and law enforcement, respectively.
Thus, as Officer Byler's brain surgery was supplemented by a course of radiation therapy then chemotherapy, many hospital employees at Palomar Health donned the specially made t-shirt to help raise funds for the cause of family survival. As of this writing, a GoFundMe page set up by Brett's sister-in-law Brittany Byler-Estes, with a stated goal of $100,000, has exceeded that by roughly $12,500. How marvelous that is! Perhaps that is a proverbial silver lining, because some doom and gloom would follow—and maybe you could help overcome the undue pressures stirred by the supposed fragilities of perfect strangers due to the current cancel culture climate.
Reportedly, as Officer Byler was enduring his cancer treatments and his family tried feverishly to meld all the pieces together and recoup from such a devastating tragedy, one patient at the hospital and one of the medical facility's employees felt "offended" by the t-shirt design (police-themed thin blue line) and complained to hospital administration.
Nakano of 10 News' explained that that one patient and that one solitary hospital employee felt the t-shirt "was racist and that they were offended by it. The blue line in a similarly designed shirt has caused national controversy in recent months, where some have interpreted it as 'anti-Black Lives Matter.' This despite the fact that the Thin Blue Line as an acknowledgement to law enforcement being the barrier between order and chaos preceeded the Black Lives Matter movement by several decades.
So the hospital asked staff wearing the shirt on-duty, to take it off immediately."
In a stunning ruling, Palomar Health executives cited their "Palomar Hospital Dress Code" which reads: "Any clothing item is inappropriate for the workplace if…it provokes, alarms, offends, or disparages those whom employees are serving or others with whom they interact."
With that logic, folks who do not like, say, red shirts have a legitimate beef against other hospital attendees. Those who get headaches from polka-dotted blouses have their say/way against so-called violators wearing such attire in the elevators, enforceable by hospital policy. Might as well simply declare all clothing of any kind is forbidden, leaving us between a rock and a naked place. Speaking of showing flesh because of a certain design, no one can deny those spiffy hospital gowns are ever stylish and without potential to flash (offend) someone.
Understandably, Byler's dad Jim said, "It's so upsetting that such a positive, unifying message morphed into and mischaracterized into something that is so hateful." He is so right!
This is just the latest among myriad episodes of meltdowns from people whose freedom of expression somehow far outweighs the rights of others with whom the former disagrees. Totally missing the entire point and definition of such a constitutional freedom, one ironically upheld by the very man battling upon one of the Palomar hospital's gurneys.
Byler's dad Jim knows full well about rights and the law enforcement officers (like his son) who dedicate themselves in infinite ways to maintain all citizens' constitutional entitlements: He is a retired policeman.
In that regard, Jim Byler rightfully declared: "The hospital is just hiding behind this [dress code] policy. This has nothing to do with pro- or anti-police. We're not trying to rope ourselves in any of the political issues that are going on. [Our] focus [is ]on our son, his wife, and his three beautiful daughters."
As a cohort of mine recently wrote, "Officer Brett Byler needs our prayers, support, and he really needs our VOICES right now," justly suggesting humanists and defenders of the Constitution contact Palomar Health and the hospital CEO Diane Hansen, not about creating a stink but much more imperatively having unoppressed freedoms rightly earned and rightly fulfilled, especially by a gallant warrior whose duty is to ensure equality applications for all—himself included.
Another close colleague also chimed in, echoing "Would the silent majority please stand up?!" Indeed, voices must be heard. Otherwise, oppression's tentacles will slither and slime their way until there is nothing but one-sided commands squelching We the People (a collection of five vowels and six consonants which comprises the octane which fuels cops' due diligence to serve).
Geographically, it does not really matter where you are in America: Escondido police Officer Brett Byler fights for the constitutional principles and equality we all embrace. Isn't that worth fighting on his behalf, the guy who harnesses freedoms for all?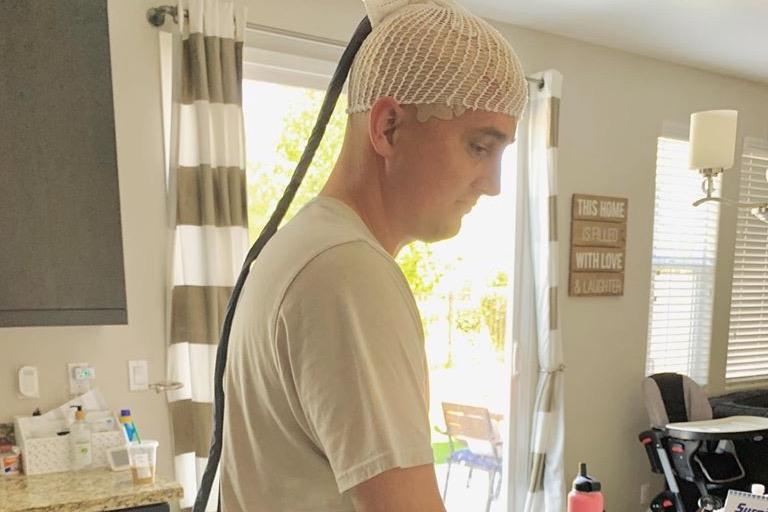 One more thing: I find it ironic that Palomar Health's mission credo is "Always here. Always safe." Cops like Brett Byler hold dear the relative ubiquity of at least trying to be everywhere when calls for help summon…to carry out the American promise of ensuring citizens are always safe. How can such a steward and public servant be so shortchanged by a duo of temperamental strangers? Let's show this cancer-combatting cop some love. Please call on his and his family's behalf; let cancel culture take the blowback it earned.
At the bottom of the "offensive" and "racist" t-shirt design are the words "No One Fights Alone." Let's provide evidence.