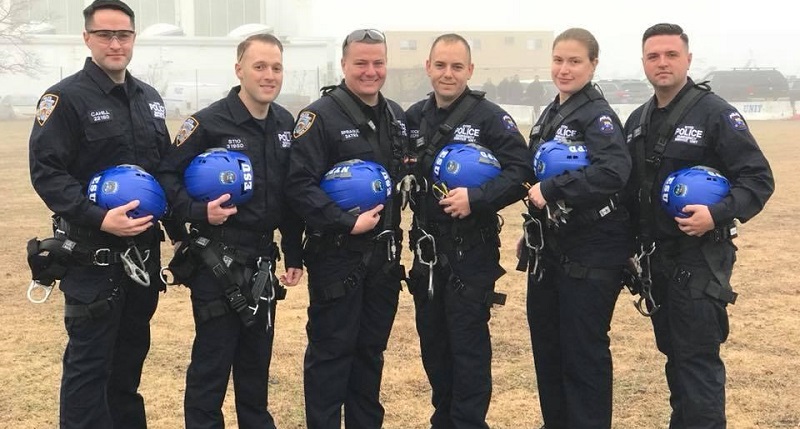 Even though the patrol division is the traditional nucleus of every police organization, elite units diligently train to exceed the ordinary boundaries, often resulting in extraordinary saves. Bomb squads and SWAT teams and aviators and scuba divers are what we are generally talking about. Specifically, we'll explore the Emergency Services Unit (ESU).
It's not a better than concept but one meeting certain criteria of hugely difficult proportions not necessarily taught during basic law enforcement training at police academies. Specialized units train hard for certifications qualifying recipients, meeting muster stipulated by states' Criminal Justice Standards and Training Commission.
Today's illustrative example is the NYPD's Emergency Services Unit (ESU), which, when unique challenges present, are the specialists trained for the unorthodox jobs. These are the cops whose lofty skills enable them to climb any of the many gargantuan bridges connecting the five-county metropolis known as New York City.
While some cities and counties have bridge and tunnel police departments solely responsible for those modes of transportation and safety, the NYPD handles all of that throughout its jurisdiction encompassing five boroughs (counties).
Recently, ESU officers conducted a training mission by scaling the Verrazzano-Narrows Bridge. The Bridge's towers stand at 693 feet, and ESU officers climb then traverse from one tower to the next. Why? Unfortunately, distraught citizens entertain desperate measures and choose bridges as their exit strategy or place of protest.
As a youngster growing up in the Big Apple, I witnessed many occasions of the ESU utility-type trucks lit and wailing, navigating heavy traffic, and arriving at scenes. What often unfolded were sensational calls for service, most involving life-saving measures making the evening news. These were likely the envy of Hollywood scriptwriters brainstorming blockbusters.
For ESU operators, there are no screenwriters or scripts—it is the real deal. These specialized cops qualified to do the unthinkable…because a distraught citizen also thought the unthinkable, like scaling a massive bridge over turbulent waters.
As one NYPD ESU field training officer described scaling these high-rise structures to rescue someone, "there's risk to us and them anywhere we operate on the bridge."
"Jumpers" were a common thread among the saves chronicled by ESU cops. Thus, their training ventures were in plain sight, magnetizing the attention of many people in different counties in view of the bridges. For me, I was within a stone's throw of the Williamsburg Bridge, a hulking structure spanning the East River and connecting Brooklyn and Manhattan.
A birds-eye view of a cop making the perilous trek up/down suspension bridge spans, typically flanked by metal cables and tubing and lattice-like wiring, is enough to make the point that only a small handful are selected for such a precarious role. Imagine the stories ESU cops can tell.
The bridge-climbing footage attached above emphasized the imperative nature of ESU cops getting out there and honing skills for the real thing. And, once again, the real thing evolved.
Speaking of real things, the NYPD's ESU officers are also equipped with those jaws-of-life devices, the ones which slowly pry open doors or twisted metal to liberate trapped motorists at traffic crashes. Ordinarily, fire departments do that (hence the utility trucks used by the NYPD ESU operators).
On Thursday, the NYPD's ESU team put their lofty training to use when a young man successfully climbed to the top of the Brooklyn Bridge and garnered much attention while also stopping motor vehicle traffic.
This is what it looked/sounded like at the scene:
In that brief footage, notice how each ESU cop was strapped and hooked to bridge structural components, bracing for the potential slippage (wind currents) or an individual who may also harbor malice. Furtive movements are always possible, which could turn deadly for several parties, especially those not belted in.
Even though police are tethereds the life-saving operation unfolds, the potential of the subject causing such a specialized police response also means those cops are relatively compromised. The tethers have ability to slide a few feet at times, but, as seen in the footage from Thursday, some tight corners exist. That poses peril after the life-saving element is under their belt.
Law enforcement wanted to ensure he was safely in their grasp, well aware of the precarious situation rife with possibilities of secondary problems.
At any time, that individual could have suddenly wielded a sharp instrument (before he was handcuffed). Why possess a knife if you intend to jump and end it all? Call me silly, but law enforcement officers have confronted quite a spate of ambushes by crazed cop-killers, some keenly setting traps to lure cops close enough and unable to navigate out of harm's way in time.
In this particular jumper incident, though, the subject donned one of those now-common, light-blue face masks. To me, that is indicative of someone who is self-protective of his welfare, not necessarily committed to self-destruction.
Minus the ambush scene we just painted, ESU cops take account while pursuing the life-saving endeavor. During basic law enforcement training at academies, instructors touch upon the fundamentals of such a situation. My cadet class had crisis response and hostage negotiators come in and talk about the principles of instilling calm and generating rapport.
The standard tit-for-tat tactic usually works. In this case, once the police are relatively confident they've got a decent dialogue going, bartering may ensue: Come down and we'll get you that cigarette, figure out how to resolve these issues…together.  
Incidentally, Thursday's Brooklyn Bridge scene had several NYPD and FDNY marine units circling in the waters below, in the event something went awry.
Thus, ESU police officers are also indoctrinated in crisis response principles ("active listening"). Skills to console a would-be jumper are essential and gain rapport, enabling the individual to comprehend that the police officer is indeed altruistic and positioned to deliver safe removal and subsequent assistance of varying types.
But these law enforcement specialists are not universally referred to as ESU cops (that is typical in NYC and within the Chesapeake Bay Bridge-Tunnel PD which employs 25 "Emergency Response personnel"). Other jurisdictions, especially those large enough to have an elite unit of any kind, go by different monikers—yet the mission is virtually identical.
Recently, the Broward County Sheriff's Office (BSO) in Fort Lauderdale, Florida graduated a class of deputies who studied, trained vigorously, and made the grade after demonstrable qualifications were achieved as Quick Response Force candidates.
"Congratulations to our newly graduated Quick Response Force (QRF) deputies.
"I've always had a great deal of respect for any law enforcement officer who takes on added risk and responsibility to urther serve their community," said BSO Sheriff Gregory Tony.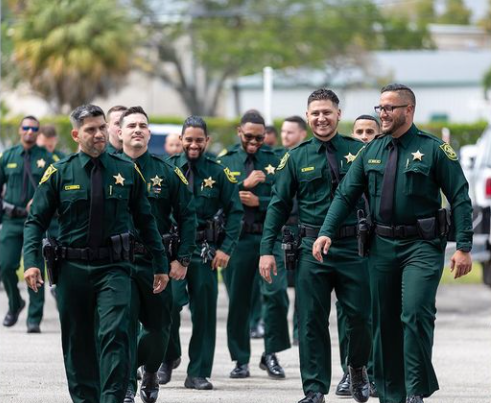 (Photo courtesy of the Broward County Sheriff's Office.)
Sheriff Tony explained: "Our QRF Team is a highly-trained unit comprised of some of the most dedicated members of law enforcement in our agency. They stand ready to take on any natural or man-made disaster, civil unrest, or any time they are called upon by their sheriff.
"Welcome to the elite, men. You earned it!"