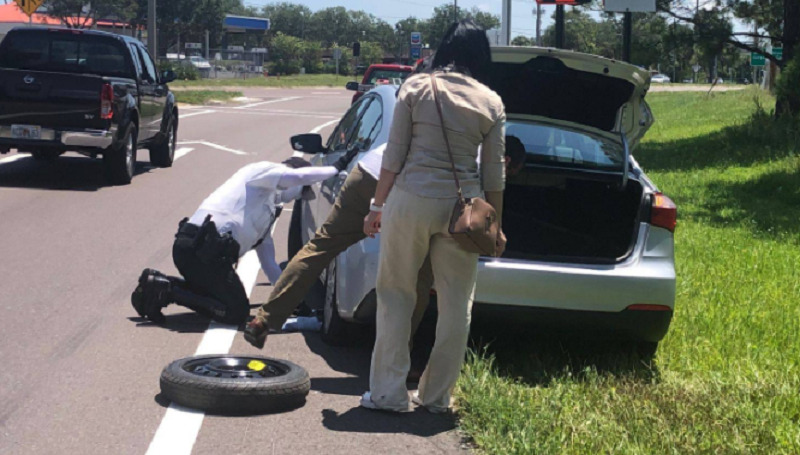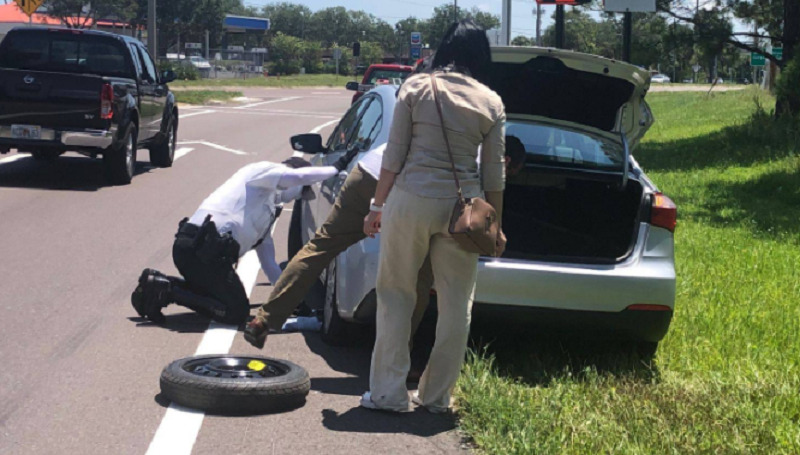 With all the baseless onslaught against cops nowadays, we are seeing a planet-load of examples of excellent police service countering the avalanche of naysayers who myopically view law enforcement in unfavorable terms.
Anything from mowing overgrown lawns for shut-ins to changing flat tires of motorists stranded on highways to picking up and remounting fallen American flags to rescuing tiny animals from sewer drains…cops get down and dirty and do it all!
I recall when I was in the police academy that we had formal "training" in how to change a car tire. I was stymied. You see, I was initially hired as a civilian police employee (9-1-1- operator) at my department, so I knew our agency had a hands-off policy when it came to motorists' automobile dilemmas (stalled; flat tire; lockouts). The basic premise was that liability existed in touching someone's car for whatever reason, so our force was forbidden to otherwise lend a hand.
Previously, our cops were authorized to carry slim jims (no, not the spicy meat sticks) to help unlock cars of people who locked their keys within. That policy ceased when a few lawsuits for damages trickled in; despite aiding them during this kind of duress, thereafter, some auto owners complained that their car-door locking mechanism was not working correctly, or scoffed at scratches on the glass, or bemoaned striations on the door jamb caused by the metallic slim jim. The department simply prohibited officers to avoid such legal entanglements stemming from doing good deeds on behalf of motorists.
Hence, when at the police academy for training to be a sworn law enforcement officer, I sorta felt snobbish about the tire-changing module. Naturally, I completed the instruction because it factored into state-mandated training hours required toward garnering police creds certified by the Criminal Justice Standards and Training Commission. But that was many years ago.
Even in modernity, some citizens comment how cops ought to solely concentrate on combatting crime and leave other non-crime matters ("disabled motorist") to general services such as tow-truck operators and mechanics and AAA. (In Florida, the state Department of Transportation has a division of Road Rangers roving in radio-networked pickups outfitted with amber-lit emergency lighting [directional arrows], jugs of fuel, tire-changing apparatus, battery-jumping power boxes, water, anti-freeze, etc., designed to assist motorists stranded roadside. But this outfit is not even remotely sufficient in number to handle the enormous volume of drivers on our roadways—thus cops come in handy.
Seen any police personnel changing citizens' flat tires lately? The only time I do not is when I am not out and about driving; ubiquitously, cops all across the nation change flats on the daily, putting the happy back in the "Happy Motoring" credo.
In Gainesville, Florida, this scene played out…like many more just like it in locales far and wide:
The citizen report influenced by the image above is as follows: "While in Gainesville today I ran across this scene. A Gainesville police officer under this lady's vehicle trying to help the young man figure out what was wrong while lying on a wet ground. And when he came out from under the vehicle…he had a smile on his face! Happy to help!
"People are trashing them and most officers are just like this gentleman. A few bad seem to spoil the whole police department's reputation." That is exactly what has been fueling the fangs biting with misguided anti-police hatred. An anomalous, poor police action elsewhere should not stamp out myriad good deeds performed by stellar cops on the daily across Everywhere, USA.  Or, as a cohort cop in Los Angeles recently posted: "One bad apple spoils the bunch" is complete nonsense. Instead, "One bad apple can hurt the bunch" is more apropos and logical.
This spontaneous motorist/observer continued with a heartfelt vision, pondering, "What if we, as an individual, were treated this way because of something one of our family members or close friends did [wrong]? Who is the first person you think to call when in need…the police. Wonder if our friends and family members would've gone ahead and worked on it or said let's wait until the ground dries up?
"And to think some people want them defunded? I certainly appreciate your service & that you risk your life daily for us! Thank you sir for caring enough to help these folks." Poignant prose from a passerby unrelated to the matter yet knowing the value of public service when citizens are unmistakably in need of salvation.
Further downstate in Lakeland, Florida, two school resource officers at one of the local high schools learned of a student —a senior whose car was questionably roadworthy— and stepped in to facilitate not only new car parts to ensure safety but also get down and dirty by laying on the asphalt and bolstering/securing pieces from the undercarriage/engine compartment. But first, these two cops shared the Clemson University-aspiring student's dilemma with a local wrecker service and inquired if particular car parts were in stock in their veritable cemetery of dead autos. Voila, the part was provided at no charge…compliments of the wrecker-yard owner.
All that was needed was someone knowledgeable in mechanical engineering to marry the car parts to the auto body. Cops are indeed a handy batch of selfless and giving individuals. Seems one of the Lakeland cops had the know-how and squeezed under Mason's car to make the surgical reparations.
Apparently, someone noticed and chronicled this story. As the Lakeland Police Department website states, "It's stories like this that make you understand why most students never forget their school resource officer. Mason Martin will no doubt always remember Officers Leach and Blackburn."
Seeing the bruised, taped-up broken nose of Mason's car, the Lakeland High School resource officers hatched a plan not only to ensure his car was safe/legal for roadways, but one of these cops/school mentors also had zero hesitation toward becoming one with the earth to ensure the work was done…at no cost to Mason (although a police uniform may have taken a beating while warming a portion of the lot.) And the in-progress police operation looked like this: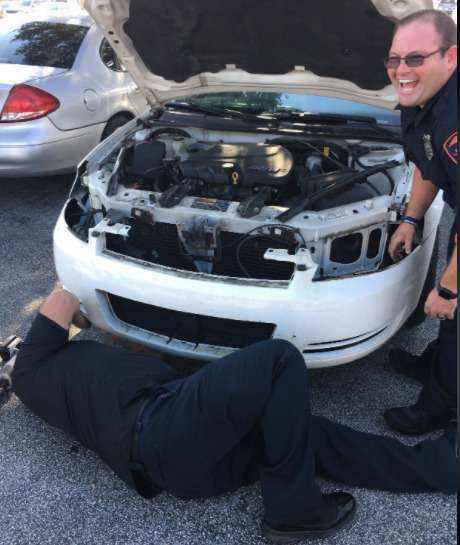 As mentioned above: cops are a resourceful bunch with many other talents under their belt. This Lakeland officer is not only a mechanic but also a collision corrector. It's not Jake from State Farm, but like a good neighbor…cops are there.
Epitomizing law enforcement officers getting down and dirty is a recent story regarding two Grand Rapids Police Department cops in Michigan whose wedding (to each other) was a literal snapshot before having to suit up and attend to unrelenting riotous behaviors.
Per the Bates Footwear site (a police duty-boot manufacturer whose products I wore throughout my career), police Officers Cole and Kelly Hoyer spent many months and hard-earned money planning their May 30, 2020 wedding. Sadly, the ceremonious event was short-lived. You see, COVID-era restrictions defaulted their big wedding, whittling it down to an "intimate gathering with immediate family in the backyard." Nothing necessarily wrong with that but they surely deserve more. However, as cops, eating cake is most often a recurring dream; just desserts often have to either wait or completely go by the wayside. For the Hoyers and others (you'll see in a moment), duty called. They responded.
"On their wedding night, rioting began to pop up in cities all over the country – and in Grand Rapids where they work. The majority of their wedding party – their close friends and family – are also police officers and were called to report to duty that night shortly after the wedding ceremony. Cole and Kelly reported for duty together the following day.
"They enjoyed 18 short hours of wedding bliss and then it was back to serving their community. This type of sacrifice often goes unnoticed. It can be thankless work. But the call to serve never sleeps – and it doesn't take time off." It looks like this: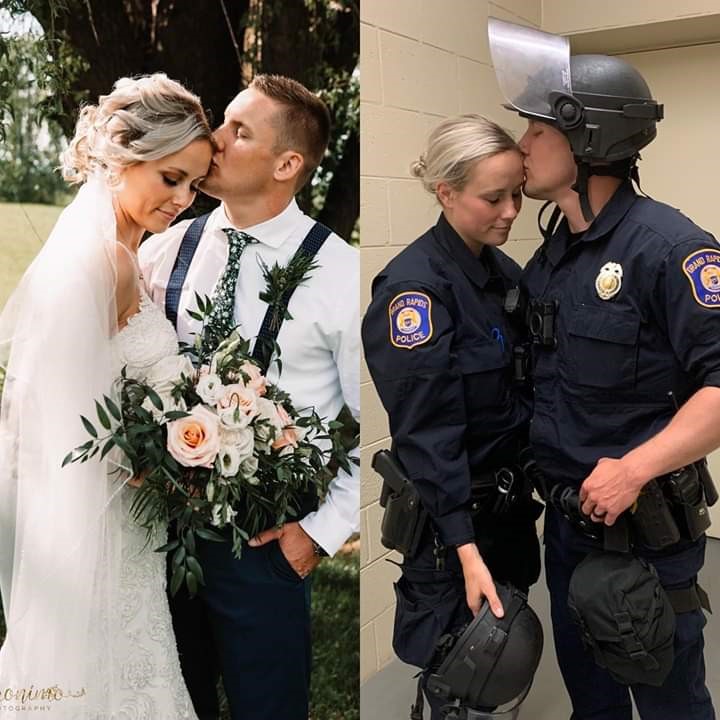 The polarity between police dedication and "defunding" noise is a gap of goliath proportions, the latter making zero sense while the former answers why that is. And this is the basis of what we tried to colorize here in this summary of police work, the cops whose duty-bound covenant is to dive in to down-and-dirty constructs to abate destructs, and the citizenry who are fortunate to have badged individuals whose cavalry-like responses save the day or just change a tired old tire on-the-fly.
Incidentally, my department subsequently created a specific police call sign among the many others codifying calls for service to which we were responding, so "Motorist Assist" became a ritualized reason for police response. If you've ever been stranded on the highways and byways, then you know the sinking feeling of a disabled automobile…as much as you relish the arrival of police assistance and cops' willingness to do what is necessary on your behalf, including getting down and dirty to meet needs.
Mike Rowe…you taking notice?