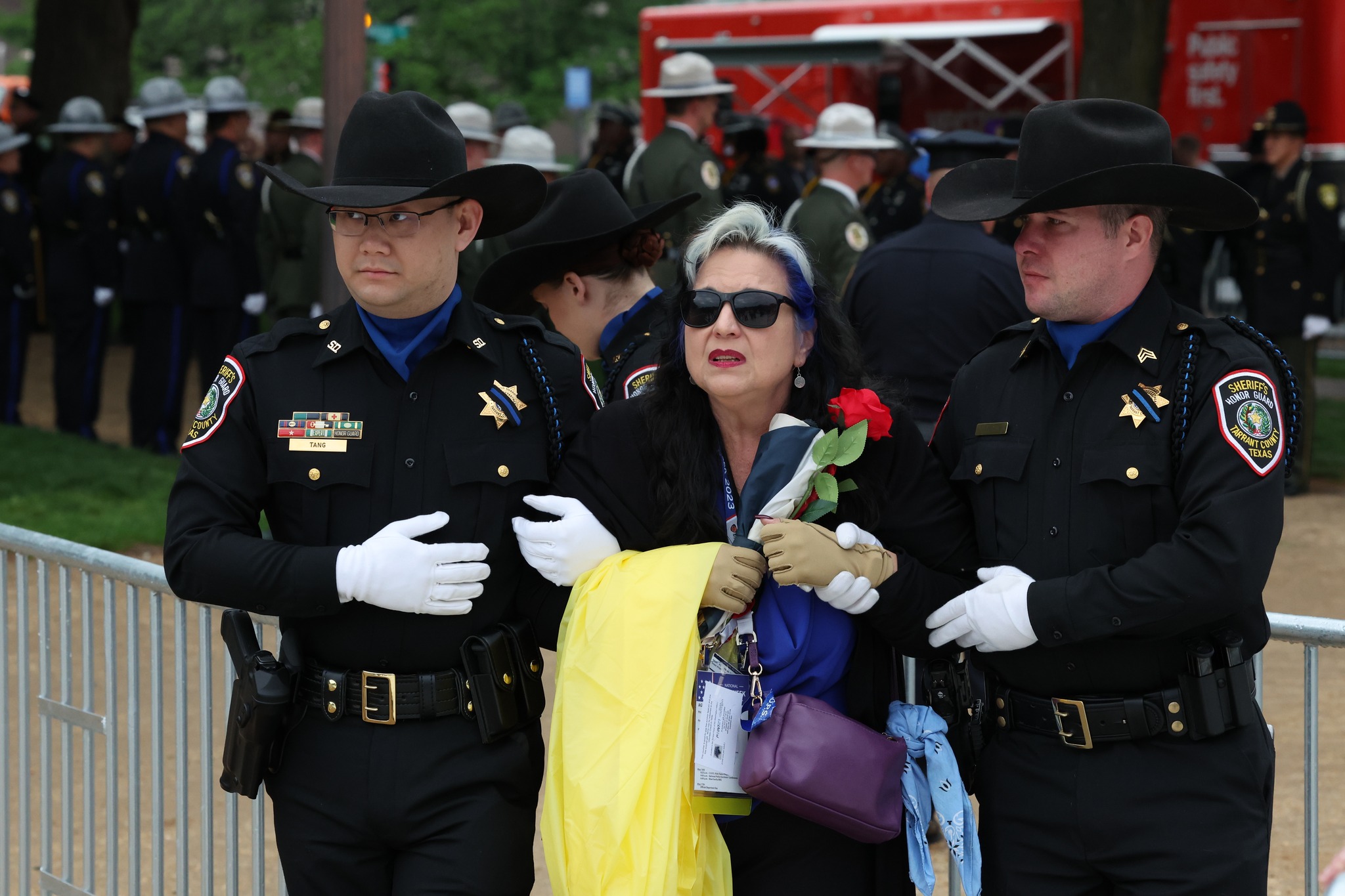 Every year when we commemorate fallen law enforcement officers during National Police Week, one of the most humbling portrayals is how cops care for the loved ones of fallen police personnel.
As National Police Week aggregated scores of law enforcement officers, families, and citizens from all over (including other nations' cops and their families in attendance), depictions of class-A-clad police officials were witnessed dutifully chaperoning the loved ones of fallen LEOs…
From the airport to awaiting coach buses, law enforcement families were escorted by a phalanx of police motor officers and cruisers, directly to the 42nd Annual Peace Officers Memorial Service held at the U.S. Capitol.
Once upon Memorial grounds, tons of tributes are in the air. One sobering echo throughout is that "It's All About the White Chairs":
"Each one of those 'white chairs' represents a hero who has fallen and, equally as important, heroes who must carry on. Their lives have been forever changed and through the efforts of so many, they know they are not alone, for we never forget our fallen and the contributions they and their families have made and will continue to make," explained the National Fraternal Order of Police (FOP) President Patrick Yoes.
Widows, widowers, parentless children, and children-less parents all placed single-stem roses on memorial grounds in Washington, DC, all escorted to the star-shaped badge of botanicals symbolizing the brave ones who didn't make it home to hug up on the ones who are now shouldered by law enforcement cohorts.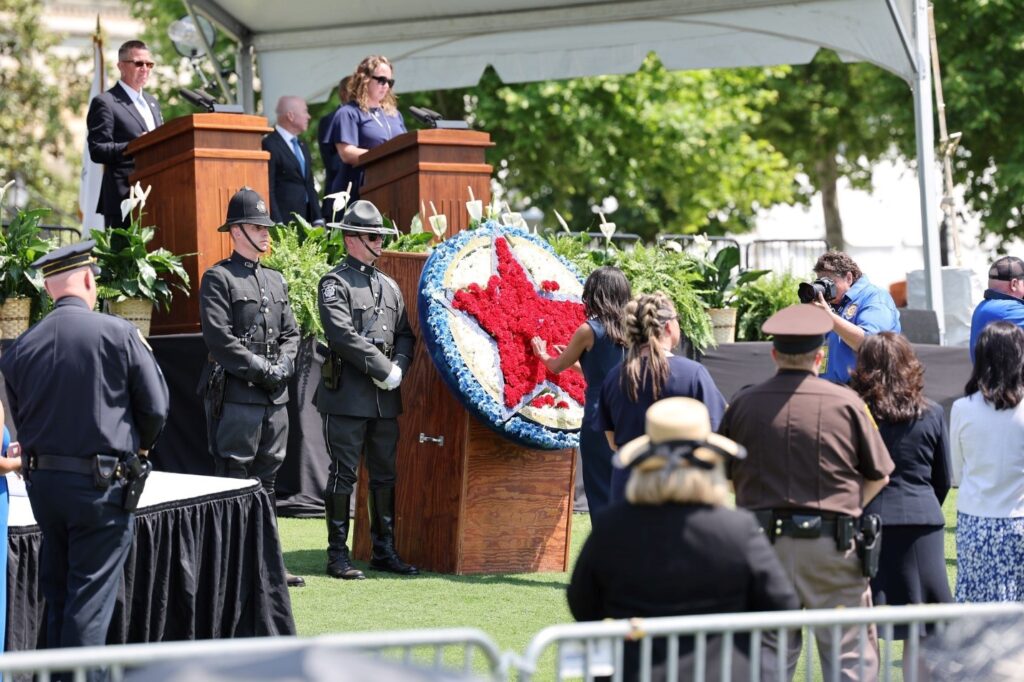 (Photo courtesy of Concerns of Police Survivors.)
This heartrending scene was exhibited one after another, each repose segueing to the next in the litany of loved ones bearing the same life-shattering weight…under which respective fallen cops' colleagues help against the buckle of it all.
"We can measure time, but we cannot measure loss. The FOP grieves with all the surviving families whose lives have been forever changed because their loved one served to protect our communities. We promise to never let these families walk alone. May these heroes rest in peace, and may we say their names often so that their memories may live on." Those are the words of President Yoes.
Here is President Yoes chatting with Dianne Bernhard, executive director of Concerns of Police Survivors (COPS), specifically paying homage to "the surviving families of our fallen officers":
Another integral extension of the law enforcement community pillaring the fallen and their families are police chaplains. There were many at the Peace Officers Memorial, just like every year before this one…and thereafter.
And sometimes the police chaplain comes from a law enforcement family that has suffered the line-of-duty loss of a blood relative.
Former Broward County, Florida, deputy and current police Chaplain Darren Bennett explained his sentiments and spiritual provisions to families of fallen officers while also noting the tragic line-of-duty loss of his brother, Broward County Sheriff's Office Deputy Shannon Bennett.
"We have an opportunity to send our Honor Guard up [to Washington, DC], and our chaplains, to stand in the gap and to stand for the families and the fallen of our loved ones."
(Photo courtesy of Broward County Sheriff's Office Chaplain Darren Bennett.)
Lump-in-throat solidarity is so prevalent in police culture. Indelibly so. As I often write: Cops are always a resourceful lot.
In good times and bad, cops come together behind the scenes and formulate plans to provide for police families in countless ways. For families of the fallen, it is infinite. Always there. Unwaveringly within reach. Whatever it takes. All in.
When one peace officer is immobilized with an injury stemming from duty-related activities, proverbial back-up is always on the way and in the wings, delivering sustenance and assistance in myriad ways, all geared toward an anticipated return to duty for any downed brother or sister. If injuries are career-ending, the same loyal allegiance is present.
Recurrent cancer ended my police career, but colleagues toed the line in numerous ways, without ever being summoned. They just did it!
What the public does not witness are police family lawns cut by cops and their loved ones.
Most people do not get to witness the scores of LEOS catering homemade meals and delivering bags of groceries, generously stocking the fridge and cupboards.
Many may not realize that cops pool resources to pay the bills of fallen or injured cohorts and their families. Cops donate time from their vacation bank so that the affected officer and their family do not feel the sting of an impacted economy due to circumstances that deprive livelihood.
When a police officer is otherwise physically unable to carry through with certain life moments, due to unfortunate circumstances stemming from inherent perils of police work, the men and women of law enforcement stand in at graduations, births, weddings, birthday bashes, the first day of the school year, you name it…there on it.
As COPS executive director Ms. Bernhard said in the brief video above: "We let families know that they are not alone as they go through their grief," extending deserved reverence and solemnity.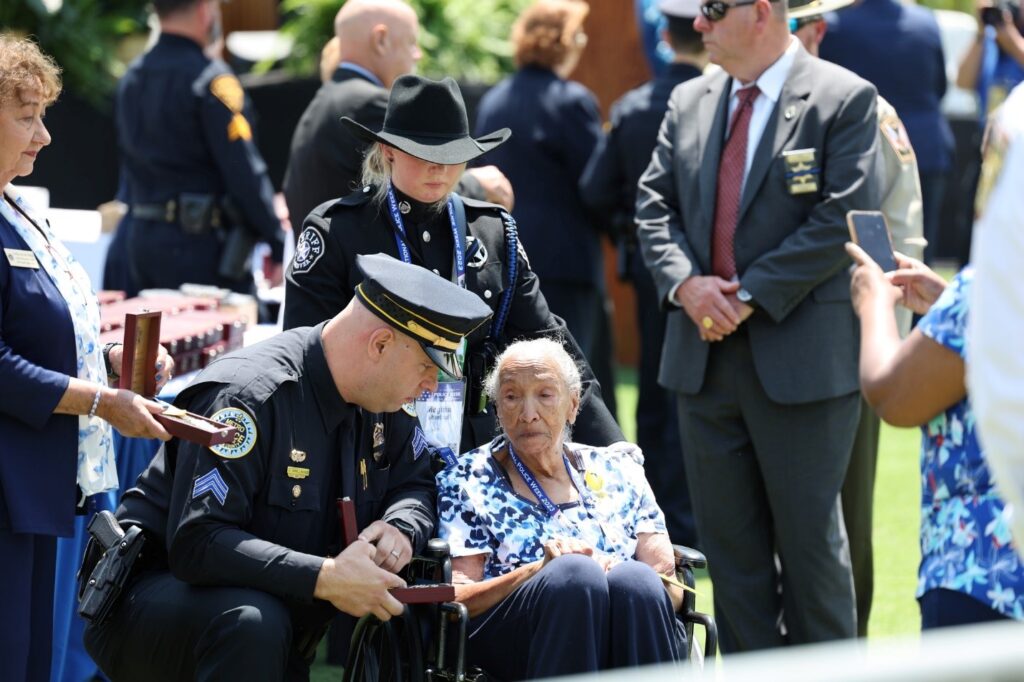 (Photo courtesy of Concerns of Police Survivors.)
"By God's grace…I've felt so much joy caring for this tremendous agency I consider my family," said Broward County Sheriff's Office Chaplain Bennett.
Blessed are the peacemakers…and those who console their loved ones.