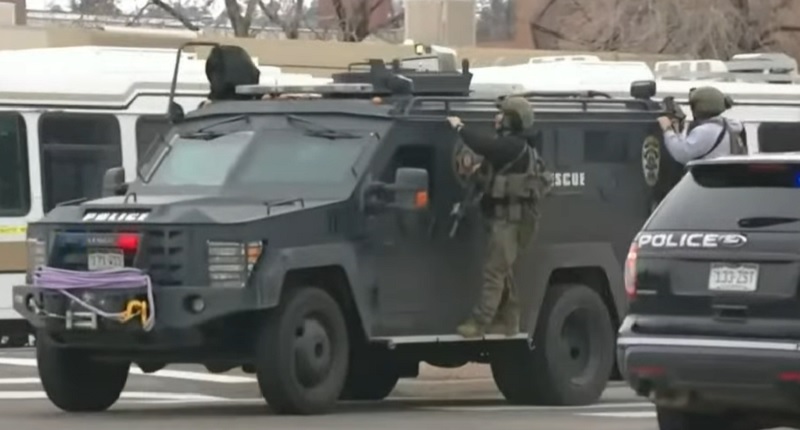 By Chief Joel F. Shults, Ed.D.
The hypocrisy of politicians who switch from condemning to praising police officers is dizzying. The same Colorado Governor who gleefully signed new punitive laws against police officers in 2020 is distraught over the death of Officer Eric Talley who was among those killed in the supermarket mass shooting in Boulder, Monday, March 22nd. High publicity affairs such as this tragedy never fail to tickle the public relations trigger. Surely the grief expressed by lawmakers is genuine in the moment, but will not last when it comes to voting on anti-police legislation.
Hopefully, the Talley family can withstand the politicization of the debates that will surround his heroic death. But if laws matter, citizens must take action when bad laws put public safety at risk. The Colorado legislature recently passed new measures under the ironic title of Enhance Law Enforcement Integrity. How might those laws have impacted our fallen officer?
If Talley had failed to activate his body-worn camera while under fire and dealing with a mass killer, the law would have made a presumption that Talley was doing something inappropriate. The statute states "THERE IS A PERMISSIVE INFERENCE IN ANY
INVESTIGATION OR LEGAL PROCEEDING, EXCLUDING CRIMINAL PROCEEDINGS
AGAINST THE PEACE OFFICER, THAT THE MISSING FOOTAGE WOULD HAVE
REFLECTED MISCONDUCT BY THE PEACE OFFICER. IF A PEACE OFFICER FAILS
TO ACTIVATE OR REACTIVATE HIS OR HER BODY-WORN CAMERA AS REQUIRED
BY THIS SECTION OR TAMPERS WITH BODY-WORN OR DASH CAMERA FOOTAGE
OR OPERATION WHEN REQUIRED TO ACTIVATE THE CAMERA, ANY
STATEMENTS SOUGHT TO BE INTRODUCED IN A PROSECUTION THROUGH THE
PEACE OFFICER RELATED TO THE INCIDENT THAT WERE NOT RECORDED DUE
TO THE PEACE OFFICER'S FAILURE TO ACTIVATE OR REACTIVATE THE
BODY-WORN CAMERA AS REQUIRED BY THIS SECTION OR IF THE STATEMENT
WAS NOT RECORDED BY OTHER MEANS CREATES A REBUTTABLE
PRESUMPTION OF INADMISSIBILITY".
So not only has the Colorado legislature deemed that any failure to turn on a camera (no exceptions for dealing with an active mass killer) is presumptively a sign of misconduct, a criminal case where such an oversight occurred can be put at risk for inadmissibility of evidence. And, by the way, if an administrative hearing determines that the officer violated the camera edict, the officer will be stripped of their state certification which means an end to their career.
What if Officer Talley, in dealing with the chaos of this event, had harmed an innocent person? Would he have been protected by qualified immunity from lawsuit? The development of qualified immunity was a direct result of the understanding that when the law requires a government actor to engage in their duty, and the circumstances are unique enough that there is no clearly established guideline for dealing with the situation, the officer's judgment will be given the benefit of the doubt. No more in Colorado. They were the first state in the nation to eliminate qualified immunity – but only for law enforcement officers of course. Other government actors, legislators, judges, and prosecutors kept their immunities.
In addition to laws that already require officers to report fellow officers for excessive force, the law requires an officer to intervene or face penalties. A reasonable idea on paper, but not reasonable to the officer in a life or death struggle who knows facts even a fellow officer may not know. An event filmed years ago caused an officer to be brought up on charges for unnecessary force until the officer was able to prove that while placing a suspect against the hood of a car that the suspect grabbed the officer's testicles and did not let go until the officer forced the suspect harder against the car. Only the officer knew the facts at the time and, had another officer intervened, the suspect could have continued his attempt to escape.
And what if Officer Talley had, in the fog of combat and quest to save lives, injured an innocent person and a judgment was made against him in civil court? Would he have had protection from financial ruin by insurance from his agency? Not in Colorado. The lawmakers decided that officers must pay out of their own pockets even for duty-related judgments if the agency believes the officer did not act in good faith. Good idea – letting the person who has an obligation to pay a bill decide if they should pay the bill or not. I wish the legislature would allow me that decision on my financial obligations.
Colorado is not finished punishing its peace officers. There are proposals to bar police from arresting teenaged students while at school or using handcuffs on some juveniles. A ban on encrypting police radios would keep criminals aware of law enforcement actions, even though monitoring unencrypted police radio traffic was directly implicated in the death of a Colorado officer in 2017. And, of course, legislators will turn from applauding the tactical response to the Boulder shooting which deployed military tactics, gear, and armored vehicles to voting to ban those very tools from law enforcement. Politicians who throttle law enforcement's legitimate needs for protection should be given no license to shed a tear one day and vote against public safety the next.