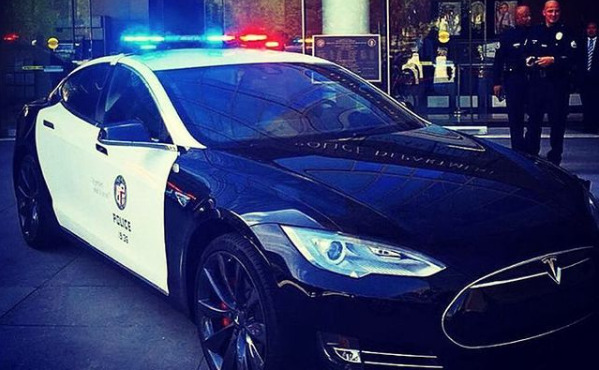 As for billionaire Warren Buffett, folks follow his every move when it comes to wisdom, experience, and carefully considered investments amounting to unfathomable wealth. Similarly, people lean in when it comes to billionaire Elon Reeve Musk and what he is up to. Musk is known for industrial innovations and redefining boundaries when it comes to daring ventures resulting in engineering marvels.
Musk's SpaceX program is a prime example of a man and his money being put to use in extraordinary ways. The same man who gave birth to PayPal also launched Tesla automobiles increasingly rolling on the roadways and getting looks as a neo-design marketed by a upstart car manufacturer. That plants a footprint in the general automobile-making foundation. Now, Musk is tooling with the police cruiser-making model, engineering cop cars with novel designs in energy-saving
Now, if you are thinking this is just a story for police car aficionados and car buffs, please standby—there's a chunk of pro-police philosophy involved here, which we'll explore in a moment.
Relatedly, recent reports indicate Musk has decided to step away from Twitterverse—he posted such while I was writing this material. Like many pro-police and pro-free speech advocates and practitioners, perhaps Musk abhors censorship also.
Interestingly, his apparent notoriety may culminate in hordes of his followers to, well, follow suit and ditch the Big Tech blue bird and its bulldozing of conservative viewership and associations of/with police supporters. If so, that equates to a potential 44.8 million Twitter followers. (I smell an aromatic blend of karma.)
According to a MarketWatch report, it seems Musk is keen on constantly recalibrating —exercising pensive repose— to ensure his pursuit of perfection. Can't fault a man or woman who is eagle-focused on getting it absolutely right! And what cop wouldn't want that in a Musk-made Tesla police cruiser which will be pushed to the limits?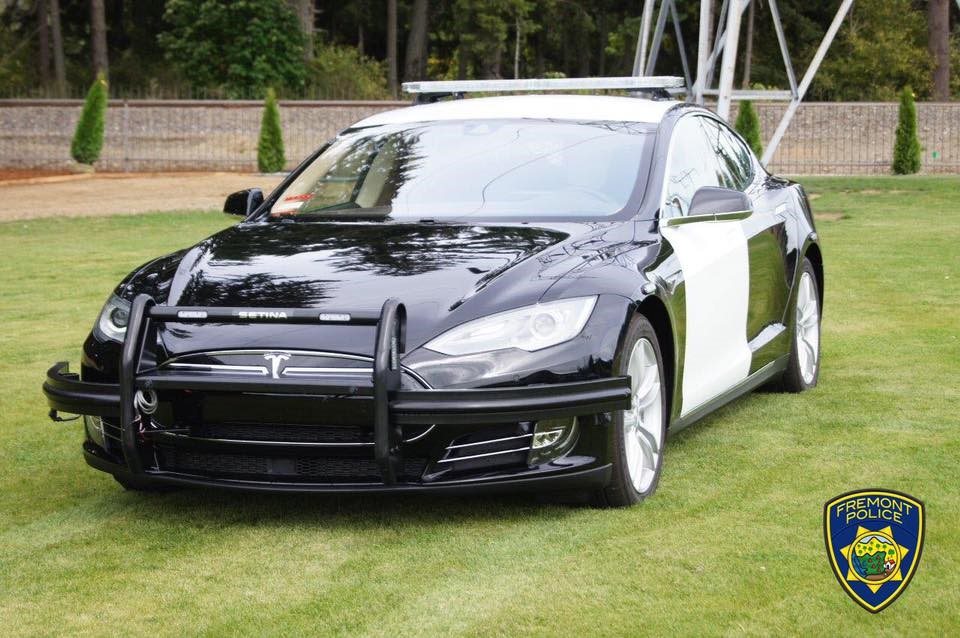 An example of Musk's influence was readily obvious when he posted kudos for a gift he received via online giant Etsy. He said, "I kinda love Etsy." That's it; just four words. With that, Etsy stock soared.
Curiosity brewed, though. A follow-up tweet provided a clue: "I bought a hand knit wool Marvin the Martian helm for my dog." Again, that was all it took for people to take note and align with his thinking.
That harkens back to our opening paragraph in this article: people pay attention to movers and shakers who have a legacy of extraordinary success derived from meticulous insights and personal constitutions for certain matters.
Having said that, one logically assumes Musk is well aware of the defund the police and abolish the police movements polluting the airwaves. Why would he invest enormous sums of money and time and energy and personnel in a public safety institution under assault…if he didn't see the opposite of what some unproductive villifiers are barking about?
Granted, he is an entrepreneurial icon whose eye is always on the goal posts, and profits to be made. And that is the point pertaining to his evolving police vehicle-manufacturing prowess.
Surely, this iconic businessman and inventor of things wouldn't necessarily throw funds at a concept if he assessed zero gains. Precisely. Musk telegraph's his belief in law enforcement and its continual place in America by lending elbow grease toward the composition of police cars for our crime-fighting cops.
Despite his Wiki indicating his net worth of $181 billion in present day 2021 —Forbes has it as $188.3 billion, and Bloomberg cites it as $199.2 billion…(ahem) minor discrepancy— he didn't get there by tossing wads of cash around while blindfolded. As Bloomberg's report noted, Musk is a man of "green net worth," the wealth derivatives stemming from Tesla electric autos.
Now, his green hue is also showing in modern-day police vehicles.
In December 2020, the Hastings-on-the-Hudson Police Department in New York took ownership of a Tesla Y model police cruiser with all the bells and whistles (siren and emergency lighting), reportedly the latest version in Tesla's line of police package autos. It is an electric-powered police cruiser whose savings in the first year compensates for the additional cost over traditional fuel-consuming police employed through decades.
On Tesla's Twitter page, there is a bevy of brief videos depicting/explaining Tesla Model Y testing, performance, and the guts within these autos made for police use.
Hastings-on-the-Hudson PD posted that their Tesla Y cruiser is "the first police outfitted Tesla Model Y in the US!" and that "it will serve as the police car assigned to the Detective Division."
Digging for pros/cons, I found a Tesla Model S police car (preceding the current Model Y) had a poor outcome in California when a police officer operating his mobile office found he needed a recharge—unfortunately while in pursuit. Naturally what goes up must come down, and what requires electric must be recharged. According to one report I found, it was the police officer who, after working most of his shift already, recognize his e-car indicated "low battery" in the initial moments of an initiated pursuit (his remaining travel range was six miles). Fremont PD learned a lesson and explained it more elaborately.
One who studies electric vehicles, Gustavo Ruffo wrote, "it was not an issue with the car itself, but with the people responsible for getting it ready for action again." Thus, maintaining a keen sense of "juice" is an endemic factor to consider in e-cars for law enforcement use.
It makes sense that non-Patrol functions of a police department would likely (logistically) make better use of electric-powered police vehicles. Hypothetically, although full-fledged sworn cops, detectives are not necessarily relegated to the fast and furious actions undertaken by patrol unit officers who may encounter impromptu pursuits and need their cruiser to get up and go and not putter. Avoiding this logically takes the car's assigned operator to ultra-heed recharge and the time it takes to do that…versus scant minutes refilling a tank at the fuel pumps. Seems Tesla police cars may be best for more routine police duty/use, like Hastings PD's detectives.
One commenter I found made a solid point regarding electric-powered police cruisers versus fuel-powered ones, and the narrative goes back to Musk's "green"-oriented engineering:
"Isn't it ironic that municipal fleet's school systems, emergency medical services, fire departments are the organizations charged with doing the overall public good and they are the organizations that just proportionately pollute the most in our communities? This is one small step to flipping the narrative."
A supporter of Hasting's PD's electric car purchase chimed in: "Very very smart move getting the all-electric car. You will save tens of thousands of dollars. Get more cars that are electric. And save even more money! Great job! Love electric cars!"
Since law enforcement executives are stewards over budgets formed by tax dollars, electric cars do seem to be a purchase with cost-saving involved and, as you just read, make taxpayers happy when they see their police force leaders spending wisely. Law enforcement agencies ordinarily make judicious use of annual budgets to operate and succeed the overall police mission. Some cop shops (metropolises) have formal budget committees while others (small, rural) are more based on roll call room bandy.
According to insideevs.com (a connoisseur of electric vehicles), the Bargersville, Indiana police department did a study of savings with regard to their first-ever Tesla Model 3 electric police car), denoting: "The Model 3 not only has zero maintenance expenses so far but also the electricity costs are far lower than the gas/oil for a internal combustion engine in a Dodge [Charger].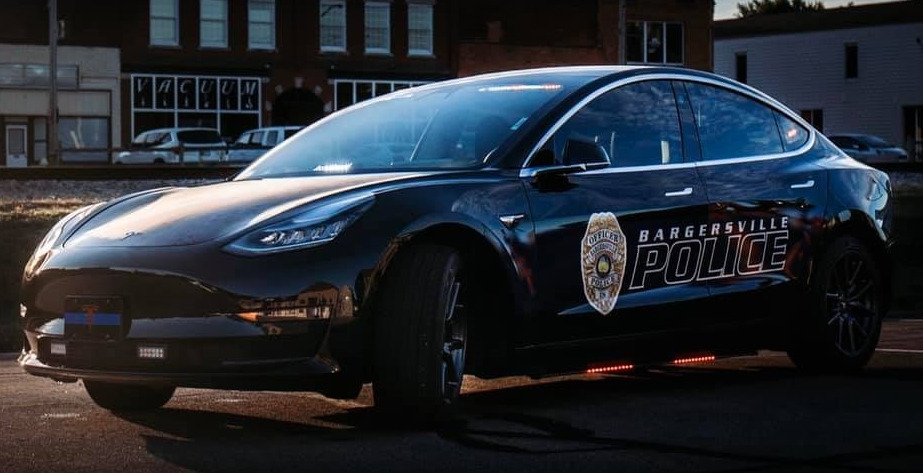 "If the outcome will be similar over the next few years, it should be obvious that the police and fleets, in general, should seriously think about electrification. A year ago, we noted that the Bargersville Police [Tesla] Model 3 price was $41,945 versus $33,612 for the Dodge Charger. The difference of $8,333 can be quickly recovered." That's the nugget I (and I'm sure most others) are curious about: the cost of a car burning fuel compared to one powered by electricity and green-minded engineering having effect on pollution (the latter implying preservation of cops' health—thanks to Mr. Musk).
By nature of requisite fastidiousness, cops routinely engender utmost preparedness, implementing get-up-and-go mentality so that precious seconds invested in life-saving measures are not wasted. In that regard, indeed fuel may be burning. Some may notice such a factor and take exception in the form of a complaint to the brass. As one commenter noted about Tesla police cars, "Best part of this is no more civilian complaints of vehicle idling." That is a gem of a sell for Musk and electric-powered cop cars.
A Fremont, California police captain was interviewed about his department's 90-vehicle police fleet and offered details regarding comparisons between fuel/electric cars used by his agency, to include a visual exploration of Tesla police models:
When I was in service as a policeman, besides the city's mechanic staff, my department had its fair share of cops who were hyper-focused on the police fleet and, predominately, how cop cars performed for patrol use. We had ad hoc committees to visit auto plants and evaluate the latest line of "police packages."
As with many police agencies in America, Ford's Crown Vic Police Interceptor package was our primary car of choice (a few Chevy's were sprinkled in). Adding a Tesla, Hastings PD has a mix of Ford and Chevy products among its police fleet.
It made sense that Ford engineers routinely invited LEOs to their drafting tables to weigh in on what is needed/expected to succeed in the police mission. For many years, the Crown Vic was the go-to police cruiser. Ford forfeited some of the market share in recent years, giving way to Dodge and its Charger model—more commonly seen on the road nowadays.
From what I understand, veteran battle-tested cops still harp over the Ford Crown Vic being the all-time "best blue beast" for police use. Just ask Hingham police Sgt Steven Dearth about his love for Ford Crown Vics. I agree, except for the fact my holstered duty weapon constantly bore holes in the seating, causing eventual discomfort from weakened integrity regarding back support.
Yet Tesla is new on the police package market, so the above views may alter. As Todd Love said, "The Tesla makes a perfect high speed police vehicle at close to the average police car price and a massive savings over the life of the car in terms of cost of ownership. Excellent use of tax money…I hope my local police department follows suit." That pares down all the specs I found online and the worthiness of Tesla in police work.
As a man melding a space program and rocket ships to go galactically, I'm reasonably certain Mr. Musk has included comforts for those seated in his engineering marvels. Lord knows, America's roughly 900,000 cops are both physically and mentally pummeled nowadays, largely by anti-police throngs roaming streets and filling corridors where law enforcement officers are trying to implement public safety.
And that is the authentically glaring crux I see in Musk investing billions in police vessels for warriors who carry out the mission while fending off naysayers who wish them erased from society.
Here is a visionary who is putting his money where his mouth is, and the message is clearly that he implores cops and what they do…offering mobile offices in which to perform successes on our behalf.
Who would do such a thing if they were in the hate pool arguing against law enforcers?
Evidently, not Mr. Musk.
Quite an investment in law enforcement while also banging the drum echoing that our cops are here to stay—the preposterous anti-police cranky chorus could use the analysis of this one individual whose stake is to strive to make life better for all…like LEOs do daily.