"On March 14, it was discovered that the National Police Association billboard reading "Support The Police, Thank a Cop", on Brill Street in Northeast Philadelphia was graffitied. This type of vandalism only incites violent acts against law enforcement not only in Philadelphia but around the country. The National Police Association condemns the defamatory and repugnant slander used by those aiming to negate the inherent heroism of the profession. The billboard was quickly restored.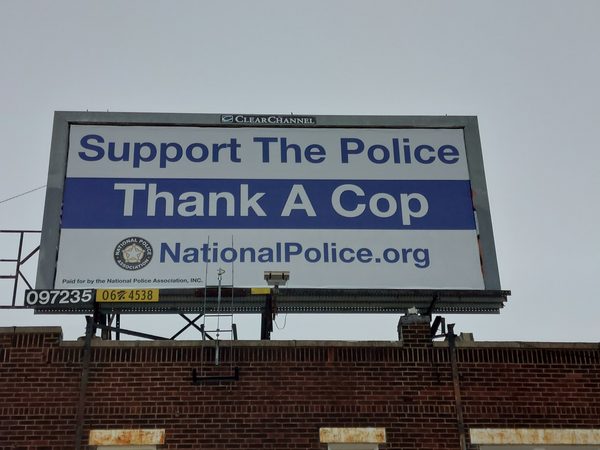 Of the incident, Sgt. Betsy Brantner Smith (ret.), spokesperson for the National Police Association, stated, "The nature of this crime is truly abhorrent. Law enforcement officers wake up each day and make the decision to serve and protect their local communities. To undermine and threaten officers is despicable, and feeds into a narrative that fuels hatred and violence."
In collaboration with Pennsylvania Gubernatorial Candidate Bill McSwain, the National Police Association brings forth a call to action to celebrate working officers and to support them in their endeavors. The National Police Association and Mr. McSwain remember the lives of local officers who were killed in the active line of duty, and pay homage to their work, families, and legacies by demanding justice for crimes committed by anti-police propagandists.
"In Pennsylvania and across the nation, failed progressive policies and soft-on-crime career politicians are creating a culture of lawlessness that celebrates violent crime, abandons personal responsibility, vilifies our nation's law enforcement officers, and encourages reprehensible acts like the vandalization of the Brill Street billboard," said Mr. McSwain.
"Our law enforcement heroes deserve better. As Governor, I will empower the police to restore law and order, prosecute those who threaten the police force, and aggressively pursue the death penalty for anyone convicted of killing a law enforcement officer. I am proud to join Sergeant Betsy Brantner Smith and the National Police Association to call for the support of police officers across the nation who put their lives on the line to protect our communities and neighborhoods – it is time to return to a culture of law and order," he continued.
Mr. McSwain and the National Police Association call on civilians and representatives of the government alike to celebrate and support the work of local police and end the salacious rhetoric surrounding law enforcement.
The billboard was ultimately replaced and cleaned of the derogatory language, showcasing the profound admiration that communities still feel toward their local officers. The National Police Association calls for disciplinary action against any individual who may attempt to sabotage signs supporting the police in the future."