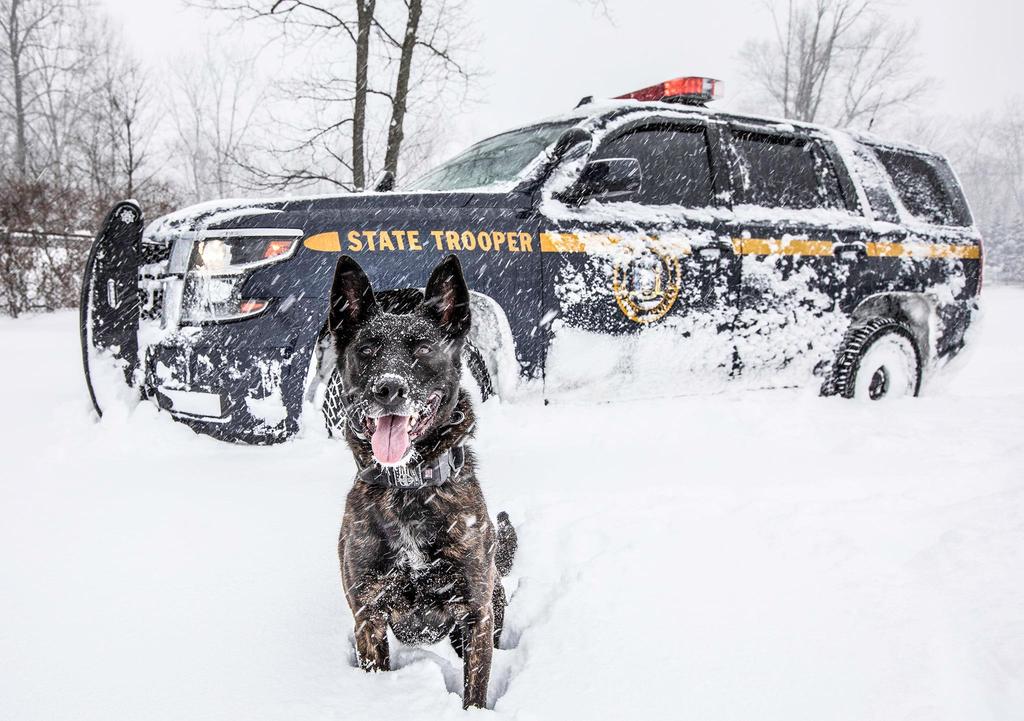 Whether you subscribe to the groundhog theory or not, one thing is certain: Mother Nature sure did her thing recently, leaving many cities in several states wracked by inexplicable volumes of the white stuff, mortifying temps, and ice.
Even in usually sunny Texas, wintry conditions effectively relegated humankind to hunker and hope for resolution as days pass and basic necessities become scarce.
Watching such natural cause and effect circumstances is unbearable. But witnessing the typical response from respective public safety agencies compels a breath of fresh air and hope we often materialize when we see cops and firefighters on the horizon and headed our way.
Logically, with crazy frozen tundra stunting many states, replenishment of supplies can only get through if roadways are clear. Hundreds of semi-tractor trailers loaded with resources have been hampered/staged at regional truck stops while, sadly, some folks succumbed to the unbearable arctic-like conditions.
From what I understand, cops have been checking in on our selfless truckers who are staged due to perilous traveling conditions. As such, some good-hearted folks put together what they could, offering soup in Icey or Slurpee cups (irony) to feed both the fleet of truckers and law enforcement officers pending at these massive depots.
A reporter from KSLA posted a video snapshot of people helping people at an interstate truck stop in Haughton, saying, "Neighbors in Haughton area have been feeding truckers stranded at the Pilot off I-20… They're also feeding first responders working hard to keep you safe during this winter weather."
How do police personnel change this particular conundrum from staged to mobile, so that some supplies can get through? A decent grouping of police cruisers pace behind a strategically positioned (angled) fleet of snowplow trucks (one in each lane, to include shoulders), the lead/inner-lane plow pushing mounds of snow to the next plow, etc., until all lanes are relatively clear. It's a fairly decent engineering effort with simple synchronicity and huge dividends (snow mounded to the farthest shoulder or embankment, lanes clear for careful mobility, cops ensuring it is all done safely).
With fuel station lines an issue, it is exacerbated by tankers unable to traverse virtual skating rinks while hauling flammable material. Yikes! Thus, those snowplows need to be diligent and not just a one-and-done; like truckers, LEOs are highly skilled drivers who size-up matters with situational awareness and decide with paramount safety in mind.
That was a grand scale effort, allowing life to return to some semblance while enhancing survival calculus.
On a local scale, cops and firefighters have been patrolling their zones and doing what needs to be done, mostly shoveling snow and carving avenues around residents' homes. Doing so helps safeguard against dwellings turning to icy heaps which can worsen the chill factor for folks within, perhaps even diminishing air flow which can lead to bad things (even igloos have open portals). In that context, cops shoveling around homes creates pathways to enable emergency service personnel to check on individuals' welfare. LEOs do "welfare checks" all the time, and even though Mother Nature put a wrinkle in that process, police personnel are trained and intuitive enough to overcome obstacles, especially when dire straits are upon us. Though circumstances sometimes impede success and saves, efforts are unrelenting.
To colorize the above paragraph, a report by The Texas Tribune posted the following stark, thought-provoking statement: "Many Texans have died because of the winter storm. Just how many won't be known for weeks or months." Given what cops do, and the gravity of the precursor you just read, welfare checks now may result in saves. Conversely, it may be too late for some who are lost to worst-case scenarios posed by nature. Power outages, frozen water lines, scarcity/no food sources, all add up to a formidable situation equating to tremendous burdens foisted upon the backs of police officers.
(Photo courtesy of the Sandy Hill, Utah police department.)
There are many depictions of what law enforcement officers are doing in cities wracked by snowmaggedon.
Power outages are being reported in many regions, worsening the chill factor and threatening lives. Although it is ill-advised to consider flying an aircraft in such frigid conditions, the Kentucky State Police (KSP) stepped up and went airborne with power company linemen, to survey needs, generate repair orders, and configure logistics so that folks' lives can return to normal as soon as possible.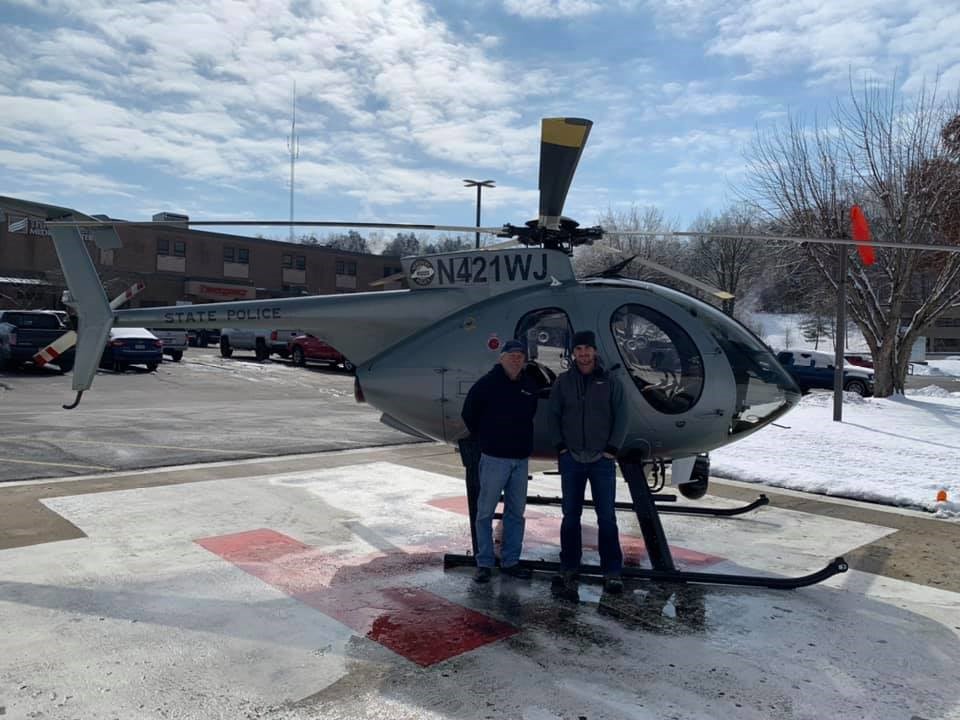 (Photo courtesy of the Kentucky State Police. Helipad use compliments of the local hospital.)
With KSP's aviators' help to chronicle downed power lines in hilly terrain, heroic linemen are also duly noted saviors during natural challenges such as these.
And among the storm's anomalies is no shortage of surreal-sized icicles hanging and/or jutting. Since police officials are on the job 24/7, they have discovered some rather oversized icicles also, like the following icy spike Texarkana police Officer James Harris documented: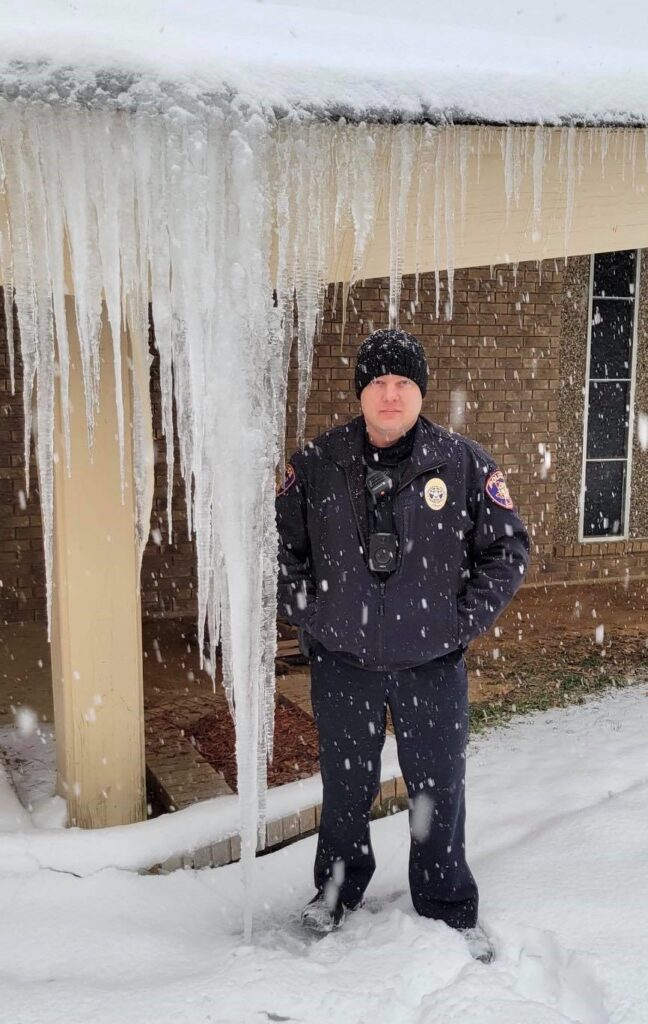 (Photo courtesy of the Texarkana Police Department.)
To make some sense of the above image, TPD offered us the following lighthearted clue: "Looks like Officer James Harris just missed Queen Elsa this morning. He found evidence that she'd recently been near Hopewell Temple CME Church on South lake Drive. Guess we'll have to keep looking for her."
Patrol officers ordinarily make rounds when it is not necessarily snowing, and extraordinarily get around when blizzard difficulties cause unbearable circumstances to sustain life, many of whom winding up in government- or church-based shelters.
Speaking of shelters, Texas game wardens aided by military members and citizens were able to attempt salvation of thousands of sea turtles "cold-shocked" by the chill of ocean waters. Among others, Texas public safety boats boarded a phenomenal volume of turtles and brought them to a convention center which just had power restored, and another facility which was put back online thanks to a large generator donated by Elon Musk (maker of modern-day police cruisers), enabling the warmth required to maintain these shelled sea surfers:
Commerce-wise, businesses often become more vulnerable to burglary when inclement weather effectively takes a community hostage, knocks out power, and defeats alarm systems. Police officers pull on doors and have keen senses for broken glass or a standout parked car at an otherwise closed merchant's shop.
Price gouging in times of dire straits and scarcity of commodities? Yep. Sadly, human nature sometimes goes astray and takes advantage. One Texas power company urged customers to consider their choice of providers of electricity as "prices soared as high as $9,000. per megawatt-hour," according to a Fox13News report. And such matters ordinarily fall to state attorneys general and their investigators to analyze regulatory commissions and potential criminal prosecutions regarding those responsible for greenlighting (or tacitly allowing) such atrocities.
Sticking with the human factor among cops and the citizens they serve, let's explore proverbial high notes brought about by communities blanketed by snow. As the Texarkana, Texas police department noted, "Something about snow tends to bring out the inner child in people, and we're not exempt from its power. Sgt. Kim Weaver and Detectives Tabitha Smith and Jennifer Billingsley had a little fun at the mural wall in downtown Texarkana yesterday":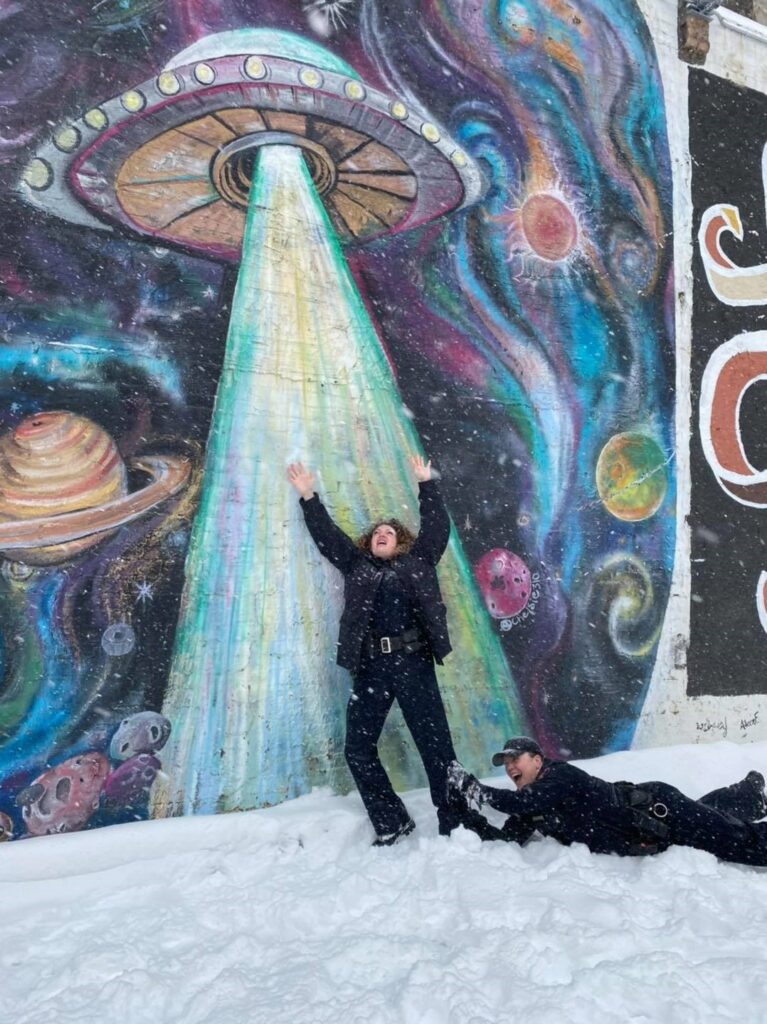 (Photo courtesy of the Texarkana, Texas police department.)
Indeed, there is something magical about snow. Whether you had a first-hand experience or otherwise gleaned someone reveling in the white glistening chilly powder, it is captivating, turning us into spectators with wonder…and maybe a pretty decent curveball too. We found some blue uniforms lobbing snowballs with kids in the community, and the laughter is priceless, thanks to Murfreesboro public safety professionals.
Lest we forget the ongoing pandemic during a fierce winter week or two…our nation's cops are duly mindful of such constraints. See?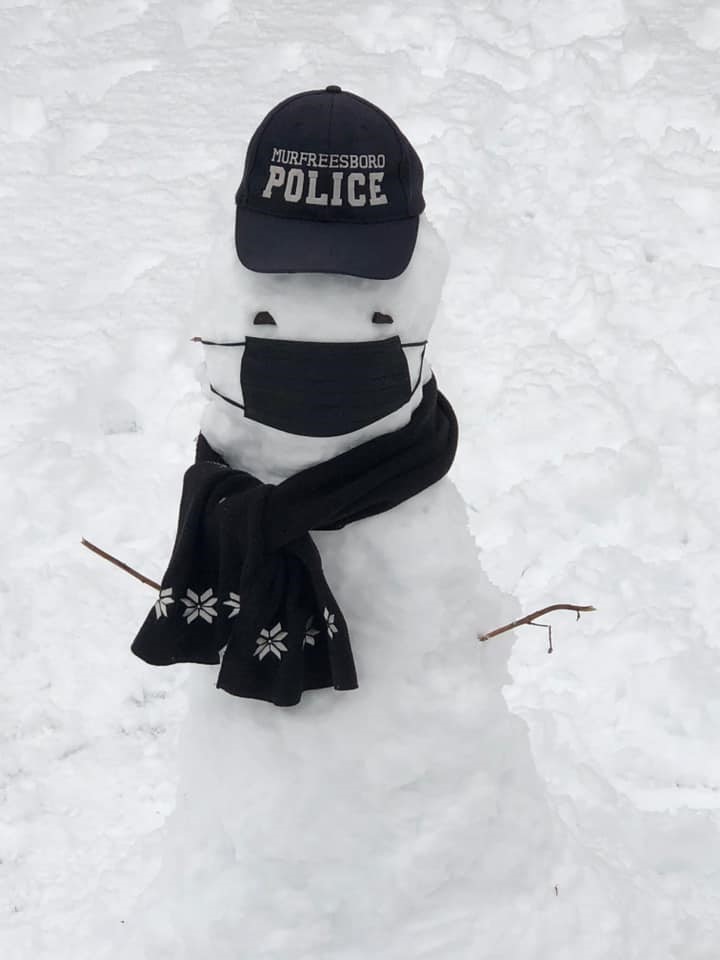 (Photo courtesy of the Murfreesboro, Tennessee police department.)
As usual, the beat goes on, paralleling the typical post office unofficial credo: "Neither snow nor rain nor heat nor gloom of night stays these couriers [cops] from the swift completion of their appointed rounds."
Naturally, traffic conditions and increased perils posed by inclement weather resulting in ice-slicked roads can easily culminate in wrecks and automobile deficiencies. Since cops are out there as traffic orderlies, they come upon many disabled cars. And ones which can be easily remedied, such as those with flat tires, are readily changed out by patrol officers (while motorists stay in the confines of a relatively warmer car, sometimes safely within the police officer's cruiser).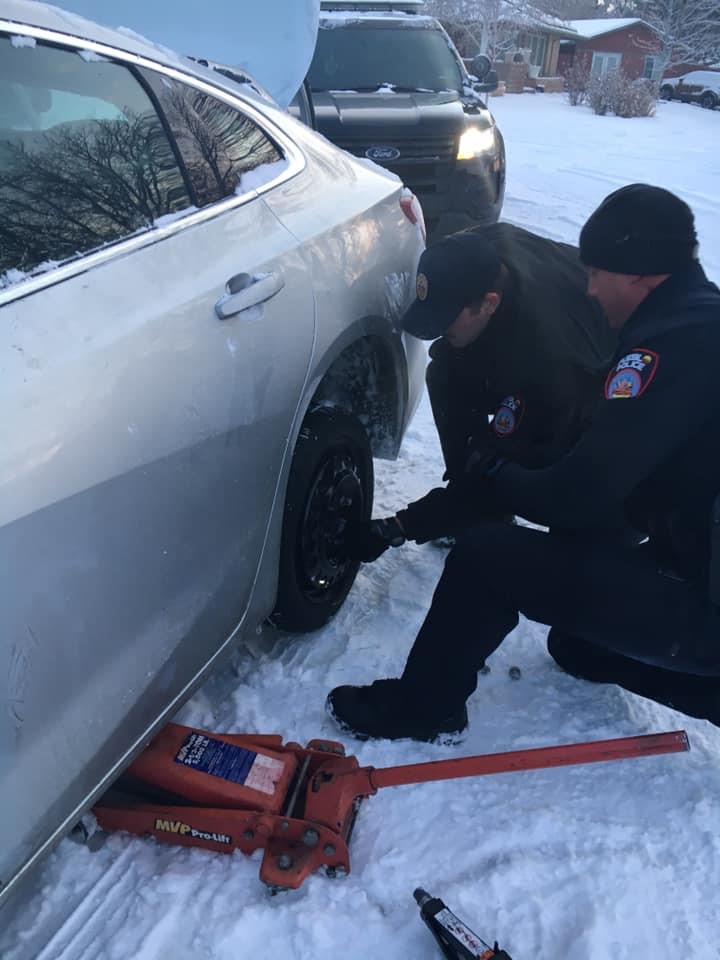 (Photo of the Pueblo, Colorado police department.)
The Grapevine, Texas police force reminds us of the unyielding ritual kept by our beloved LEOs, posting: "Thanks to our midnight shift officers for another safe night patrolling our community. Now the day shift is arriving and digging out from the latest round of snow. Our officers will be out checking on people, roads, and businesses all day. We still advise you to stay home if you don't need to travel, but know we are here if you need us."
That sound advice is empirical and speaks to the very heart of cops across the country, whether snowy or blistering hot or torrentially saturated, squads of brave men and women are always in service.