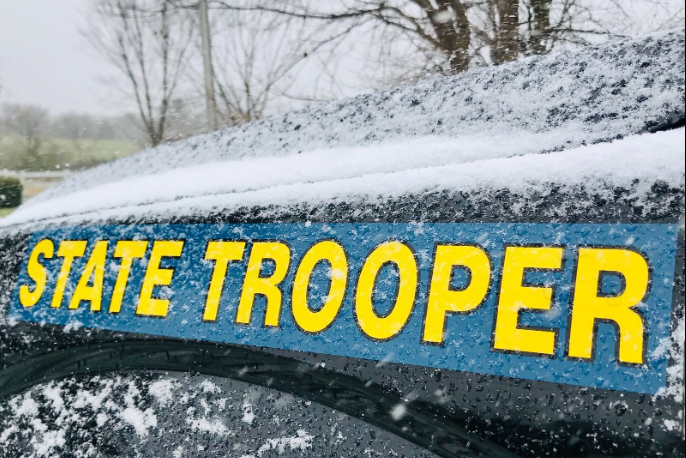 Certain cities are under the lenses of state legislatures, focused on doing what is necessary to restore some semblance of safety and security in out-of-control locales.
According to GOVERNING Daily —whose tagline is "The Future of States and Localities" — the Missouri Legislature has had enough of St. Louis's rampant crime and George Soros-monetized lenient prosecutors handing out get-out-of-jail-free cards like Halloween candy.
On March 13, 2023, the Missouri Legislature passed House Bill 702. Per KSDK, the bill "would put the [St. Louis police] department under the control of a five-member board" comprised of "the mayor of St. Louis and four commissioners appointed by" Governor Michael L. Parson, a 22-year law enforcement veteran who was sheriff of Polk County and also served as a state lawmaker and lieutenant governor before his rise to the gubernatorial seat.
A statement made by Missouri State Rep. Brad Christ (R – St Louis County) emphasized the rationale giving birth to the bill: "Unfortunately, there are too many instances that led to this. Our homicide and violent crime rates have doubled. Our businesses are fleeing, over 500 left the city of St. Louis in the past two years and it has saved no money."
In GOVERNING's exposé on "Why Some States Are Pushing Cities Out of Law Enforcement," the prospect of the state taking over the metropolis's criminal justice system aspects comes on the heels of unabated violence (revolving door justice system of District Attorney Kim Gardner), the latest instance of which exhibited a cold-hearted man armed with a firearm unloosing bullets into the head of a homeless man sitting on the city-street curb.
The National Police Association recently emailed a PSA reiterating the blatancy of kid-gloves prosecutors (funded by George Soros) essentially declining to do their job of jailing bad actors for victimizing citizens, highlighting hardcore crime and shining heat lamps on DA Kim Gardner…who seems to make a much better criminal defense attorney than an avowed (oath-sworn) criminal justice practitioner.
"It happened again!" the NPA email echoed. "Another brazen shooting in Kim Gardner's St. Louis —the victim, David Saldana— described as 'homeless' and 'being in his 40s.' Saldana was shot 'execution style,' with a bullet to the back of his head.
"As a witness who knew the victim reports: 'It's sad, because like I said, I never saw David mess with anybody. He never had words with anybody. He was a sweet individual.'" (If you missed it and other similar bulletins, be sure to include yourself on NPA's mailing list.)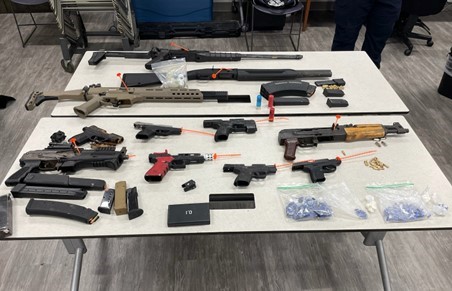 (Photo courtesy of the St. Louis Metro Police Department.)
Along with that photo of abundant firepower confiscated by St. Louis Metro cops, was their description of how they came upon such a lot:
"While conducting foot patrols after completing a traffic stop in the Walnut Park East neighborhood last week, officers located these firearms & suspected narcotics in vacant buildings. One firearm was revealed to be stolen."
A social media commenter weighed in on this, saying, "Thank you and God Bless all the Officers that work so fearlessly and diligently to keep the people of St. Louis Safe.
"This is a good visual of what violent threats are out there. It is completely baffling to think of all the pockets of illegal drugs and guns that are around sooo many corners in St Louis City. It is criminal that [DA] Kim Gardner and her crew have allowed this to hemorrhage."
There you have it, from someone who seems to know the score. What can be done? Well, the "Show Me State" is reacting.
Alan Greenblatt wrote, "Missouri's Legislature has a plan to take over the police force in St. Louis. It's just one example of states taking direct control of public safety in their largest cities." (It's less about "taking over the police force" and more about assuming oversight of the entire St. Louis criminal justice system due to failed local politicos with an apparent taste for crime trends.)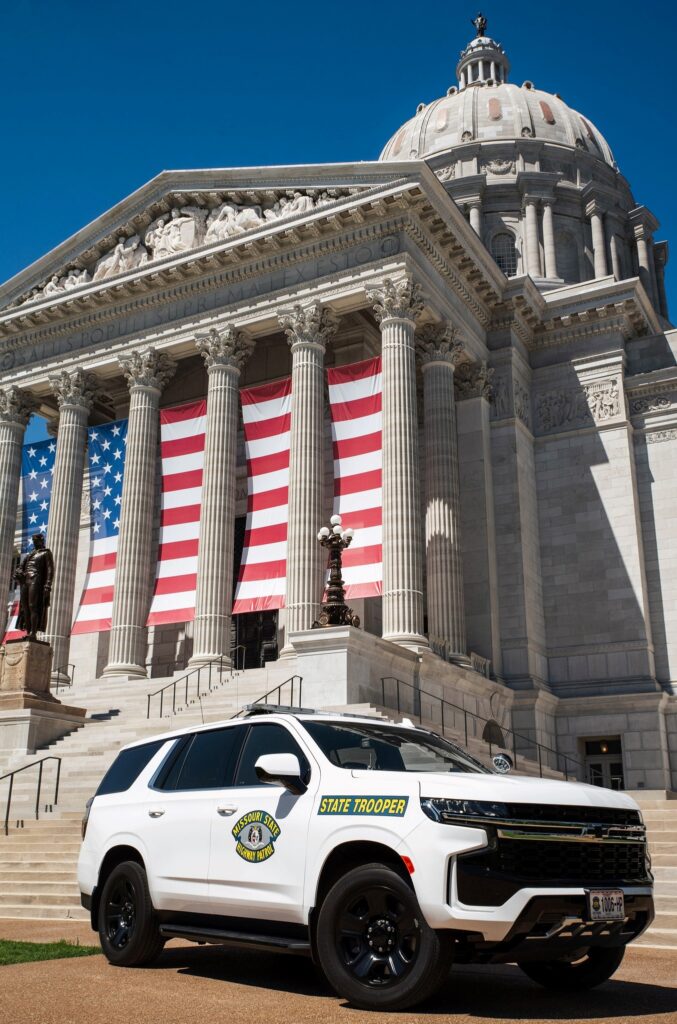 (Photo courtesy of the Missouri State Highway Patrol.)
What Mr. Greenblatt alludes to is Florida, which swiftly passed legislation prohibiting any local government (town, village, municipality, county) from defunding its respective police force or any progressive prosecutors diapering instead of jailing lawbreakers.
Other states doing something about the attention-grabbing criminality and "rogue" prosecutors betraying their criminal justice credentials and law degrees are Texas and Georgia.
Such an intrastate maneuver supplanting municipal government oversight of police assets is an unambiguous hierarchical default, signaling state officials' dismay over how the second-largest city in Missouri has gone to you-know-where.
Mississippi also has a bill, the intent of which is to ally, with state capitol police helping local cops employed by the capitol city of Jackson.
(Photo courtesy of the Mississippi State Capitol Police Department.)
On March 17, 2023, Mississippi State Capitol Police officers mingled with Jackson police officers at a ribbon-cutting ceremony at their newly opened patrol quarters in downtown Jackson.
By the way, the plan the Missouri Legislature has on the table is sort of reflected in Massachusetts, involving state troopers assuming police coverage, only on a smaller scale and for different reasons.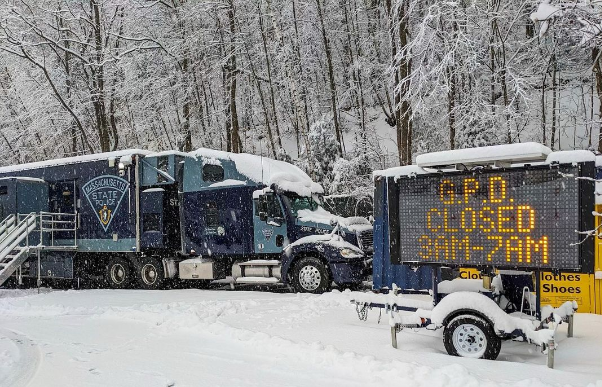 (Photo courtesy of the Massachusetts State Police.)
Per the Massachusetts State Police, their troopers are providing law enforcement services on behalf of the Greenland Police Department:
"Recently, due to staffing and funding issues, the Greenland Police Department is without [law enforcement] coverage from 3:00 AM until 7:00 AM. The public may notice that the State Police command center has been set up at Greenfield PD and our members will be supporting the town with their public safety needs until this issue is resolved."
A Massachusetts State Police spokesperson said, "We recognize the importance of local police departments in maintaining a community's safety," talking about their agency standing in for Greenland PD. That statement has significant pertinence to St. Louis and the Missouri Legislature essentially feeling the city's local governance lost (relinquished) all control.
Even though it is not like why the Missouri Legislature seeks to govern police provisions in St. Louis, it is an example of the general protocol whereby hierarchy is engendered when public safety resources are hard-pressed.
Incidentally, read through GOVERNING's article on the state assuming oversight of the St. Louis Police Department. It has some intriguing history spelled out, having to do with some of our nation's metropolis police departments formerly being under state oversight (until municipalities lobbied and received autonomous reign).
From what I understand, St. Louis politicos are aghast at the Missouri Legislature for its notion of trying to mend all the broken pieces that lay at their feet. Oppositionists have spoken the words "political power" and "racism" as reasons behind the Legislature's motives for scribing public safety bills.
Nevertheless, rampant crime persists. Despite any perception of political wrangling, citizens want more police, not less.
On that note, the Missouri State Highway Patrol has a vast menu of provisions called "We Serve Missouri," replete with a roster indicating the agency's stewarding on behalf of citizens.
One last thing: State-level law enforcement organizations generally have state-wide jurisdiction, thus enforcing laws anywhere –whether it be county, city, town, or village enclaves— highway patrol troopers possess the authority to be in/around smaller governments, especially when they are going bonkers with criminal chaos.
As for non-prosecuting prosecutors, the state Legislature is issuing its statement of intolerance and preparedness to act on behalf of the tax-paying citizenry who surely deserve better. This is yet another glaring example of so-called progressive governance failing its assigned role and responsibilities.
As the National Fraternal Order of Police posted on Friday morning: "Putting politics over people never produces sustainable results." Hear-hear!