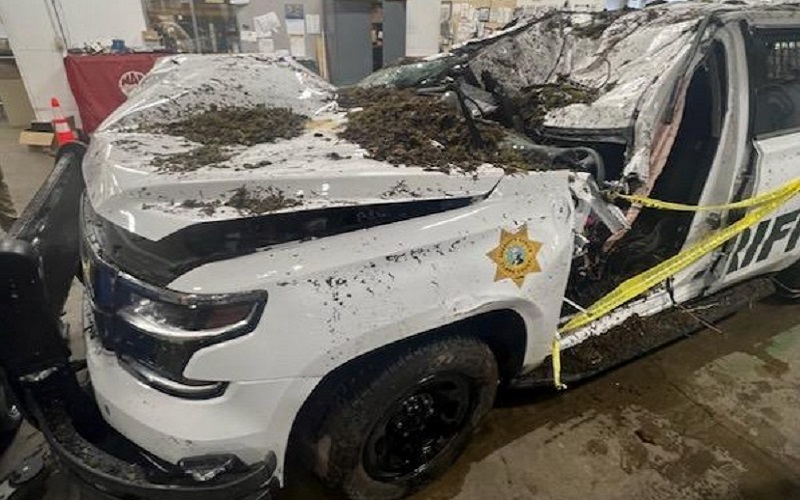 The dangers of police work are among the most palpable things on the planet, but it is not always bad actors who propagate that fact. Sometimes flukes and natural disasters become the Goliath to be dealt with, altering robust careers of police officers out there doing the job regardless of the type or size of foe or freakish incidents.
Recently, the Clark County Sheriff's Office (CCSO) in Washington State sustained a severe blow when one of their deputies, operating a marked SUV patrol cruiser, had a brush with nature, the outcome looking quite bleak.
As stated by a CCSO spokesperson:
"Drew Kennison, a 14-year veteran of the Clark County Sheriff's Office, was the deputy injured in the incident" on Wednesday, February 22, 2023.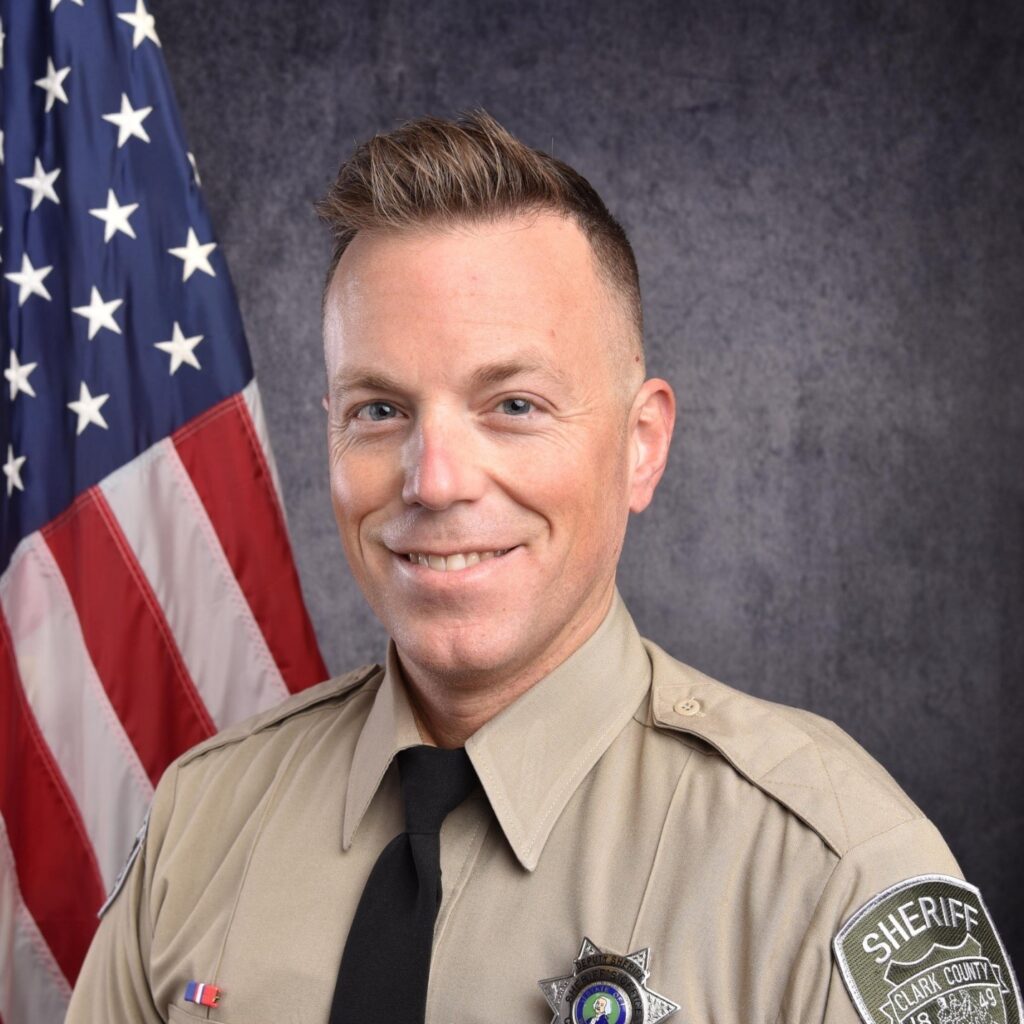 (Photo courtesy of the Clark County Sheriff's Office.)
"Here is what we know as far as the crash is concerned. It appears that the upper portion of a large tree broke off, possibly because of the heavy snowfall, and fell onto his patrol vehicle as he was traveling on Washougal River Road.
"The portion of the tree that fell was significant in size. It appears to have struck the vehicle where the windshield meets the hood. The vehicle then came to rest just off the roadway against another tree. Several other law enforcement officers were traveling with him [in a caravan of sheriff's cruisers] when the incident occurred. They were able to quickly provide first aid [tourniquets]. A local public works truck was in the area and helped remove the tree which was across the vehicle prior to the arrival of fire and emergency medical personnel."
That press release enables a daunting picture painted in minds, perhaps giving rise to wondering about miracles and survival. Here is a photo of the mangled mess from which Deputy Kennison was freed and flown to a hospital, as a trauma-alert patient relying on urgent medical attention: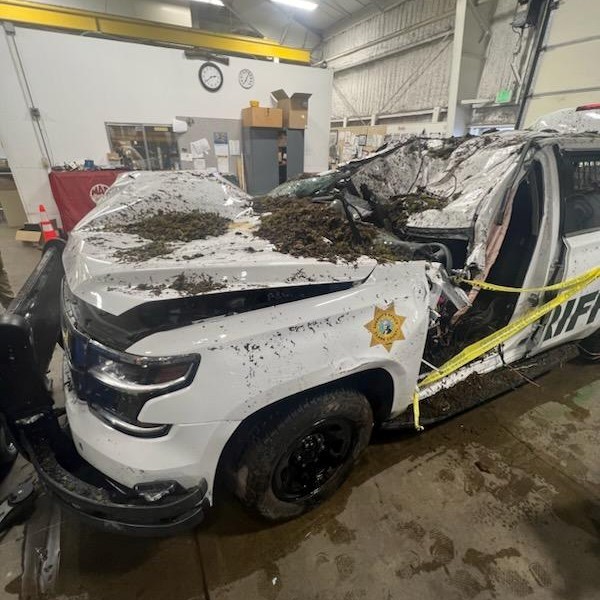 (Photo courtesy of the Clark County Sheriff's Office.)
Per ClarkCountyToday.com, "The crash was serious enough that personnel from Camas Washougal Fire Department, Vancouver Fire Department, East County Fire and Rescue, and Skamania Fire used heavy extrication tools to remove the deputy from the patrol vehicle."
Miraculously, Deputy Kennison survived and is hanging on to the vine of life. Now comes the gritty, career-altering part, directly from the sheriff's office administration:
"[On February 22, 2023], after being transported to Peace Health, he was in the operating room for about 3 hours. He was stabilized and transported to Emanuel Hospital in Portland for additional surgery and treatment.
"After several hours at Emanuel, the surgeons determined his leg could not be saved, and his left leg was amputated just above the knee. We want to thank the medical teams at Peace Health and Legacy Emanuel for their exceptional efforts.
"Drew will require further surgeries in the coming days and weeks. He is recovering right now and is in good spirits."
The "above the knee" description is known as AKA (above-knee amputation), meaning two joints of human lower-extremity anatomy no longer exist. After amputation, and reconfiguration of the tissue mends, the next step is getting fitted for a prosthesis, after which is the long and arduous rehabilitation realm otherwise known as physical therapy (PT).
This is when/why having lost only one joint (below-knee amputation or BKA) is more advantageous than having to somehow compensate for the absence of two joints. It is hugely difficult but doable (speaking from personal experience. It took me five-and-a-half months to relearn to walk and climb).
I read that Deputy Kennison is known for avid physical conditioning and maintains stellar health, both physically and mentally. Those attributes will certainly serve him well as he gets back up and reclaims his life as best possible.
Although it is possible to lose a limb, endure the challenges of rehab via months of PT, and thereafter attempt to rejoin the law enforcement agency, efforts are commendable but not always successful.
Being among this not-in-a-good-way unique demographic, I studied the requirements and fortitude of amputee cops who battled like gladiators to resume life with justice shields. There are some examples of cops who lost a limb and unrelentingly fought hard to regain their duty belt and hit the beat again.
The Amputee Coalition site has years of retrospective inquiries from people who have suffered limb loss and nonetheless wish to become cops, asking for success stories of LEOs whose limb loss didn't stop them from achieving roles in policing. (On the Amputee Coalition forum, type in keywords "police amputee" to realize the examples out there.)
The TV series "COPS" portrayed a Florida deputy who sustained limb loss and exemplified a come-from-behind win, donning the LEO uniform again, physically chasing down and capturing a suspect in a foot pursuit.
The "COPS" production crew cameras caught it all, and this amputee deputy caught his man.
That video was my main impetus to recondition and attempt rejoining policing. Then I learned the vast difference between below-knee and above-knee amputations and the capabilities of each. This is not to say it can't be done but the odds are unfavorable about an AKA dynamic.
Generally, law enforcement entities go out of their way to support cops in this exact circumstance, as daunting as it is, and usually immediately set forth plans for a return, whether sworn (after succeeding the entire physical agility requirements employed at police academies) or in a civilian capacity (such as a crime scene tech or public safety dispatcher or similar less-than-fully-physical role).
From materials I reviewed, the Clark County sheriff's administration has a tentative blueprint scaled for Deputy Kennison's future. For now, it is laden with prayer and support from law enforcement and the citizenry.
"Drew has been a CCSO Deputy for 14 years. In addition to his time on Patrol, Drew has served on special assignments with the US Marshalls Fugitive Task Force, our Tactical Detective Unit, and is currently on the Southwest Washington Regional SWAT team.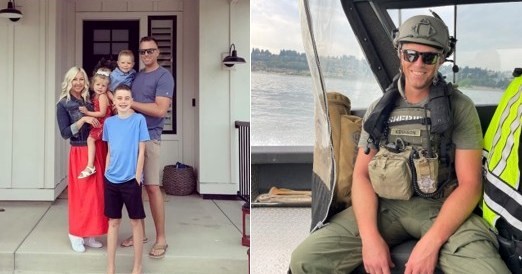 (Photo courtesy of the Clark County Sheriff's Office.)
"Drew is a kind and compassionate person who loves serving his community.
"The Clark County Sheriff's Office will continue to support Drew and his family during this time and the many months of recovery to come."
Many months of physical recovery is indeed an accurate projection. Like any LEO whose career is shortchanged by abrupt afflictions, though, the mental burdens weighing down police psyches is an ill-considered element of equal gravity when it comes to focusing on returning to full duty. But cops are darn good at confronting reality and starkness.
Here's a husband and father serving as his law enforcement agencies SWAT team commander, driving home from SWAT training (hence his colleagues right behind him) where he rigorously instilled in his cohorts the sharp skills of special operations preempting becoming a fatality at the hands of miscreants. Yet, he becomes a low-probability stat when one of nature's formidable hulks came crashing down on him.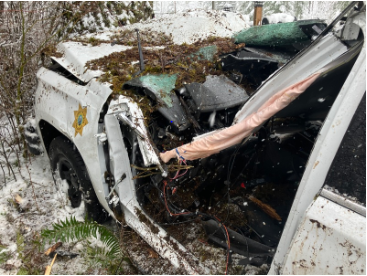 (Photo courtesy of the Clark County Deputy Sheriff's Guild.)
As we see once again, in this case involving Deputy Kennison, the law enforcement role is rife with perils from natural disasters and/or phantoms preying on cops.
In Deputy Kennison's case, his tragic ordeal will now also engender the mindboggling science of feeling pain where he no longer has a limb, otherwise known as "phantom pain," whereby his salvaged/sutured nerve endings signal discomfort in amputated tissue…because a fallen tree limb crushed his beyond repair.
We close with a heartfelt statement published by the Clark County Deputy Sheriff's Guild:
"At the request of the family, please keep focused on prayers for Drew and allow for comfortable space as they cope. This 'Donations for Drew' account has been established to help the Kennison family offset costs associated with his recovery and other family and financial needs that will be present for months to come."
Silver linings? I now have a new friend in Deputy Kennison —a crutch in the clutch— he just doesn't know it yet…