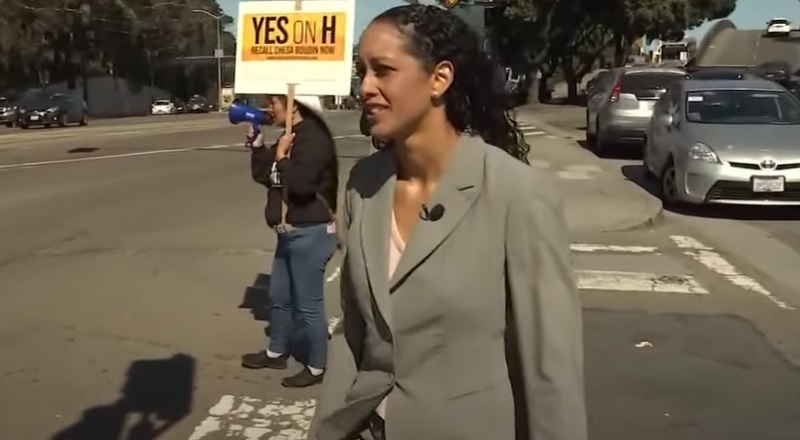 By Steve Pomper 
San Franciscans have overwhelmingly (60%) tossed Marxist District Attorney Chesa Boudin onto the ash heap of city history, and SFPD cops must be celebrating. Where Seattle voters tossed out their non-prosecuting disaster, Pete Holmes, during the 2020 election, voting in Republican, Ann Davison, voters in San Fran couldn't wait for a scheduled election and got enough support to pitch Boudin's butt out of office during a special recall election.
However, voters didn't choose Boudin's replacement. According to National Review, San Francisco's politically frenetic leftist Mayor London Breed appointed former prosecutor Brooke Jenkins to replace Boudin. Jenkins had once supported and worked for Boudin. But, before you think that was a bad thing, she resigned "to support the recall of her former boss…."
It's hard to know if Breed supported Boudin's ouster or not, though she "backed Boudin's opponent in 2019" and "had criticized the DA and his policies." However, according to KQED, "Boudin and Police Chief Bill Scott also repeatedly butted heads, although neither Scott nor Breed took public positions on the recall."
Breed said of the several DA candidates she considered for the job, Jenkins "stood out the most." This puts Jenkins in a strange position for those assessing her for the DA position. She opposed Boudin, which had become fashionable even with many SF leftists, but a radical leftist mayor chose her.
It's encouraging that Jenkins resigned from the DA's office because she said, "Boudin pressured prosecutors in his office to give lenient plea deals and that he acted more like the public defender that he had been than a prosecutor. During an introductory speech Thursday, Jenkins said the 'paramount mission of the district attorney's office is to promote public safety.'"
Those are comforting words for cops, especially if they're true. Jenkins added she will not tolerate hate crimes, and "violent and repeat offenders will no longer be allowed to victimize our city without consequences."
She also promised to enforce drug laws and end "open-air drug markets in the city… 'so that we can take back our streets.'"
Still, this very successful, accomplished young "black and Latina" woman touts the leftist line, complaining about "inequities in the criminal justice system." While this is true of virtually every institution, the left has exaggerated and often fabricated false need for "police reform" for political gain.
And while she wants to hold "offenders accountable," she still plans to "move forward with important criminal-justice reforms." Leftists, even those with promise like Jenkins, can't seem to get away from their errant dedication to "police reform," which is unnecessary. How about removing the political hyperbole and just aim for police improvement, which all organizations and people can agree is desirable—while not insulting?
In a nutshell, National Review condensed Boudin's recall opposition, saying voters believed "Boudin sent a message that San Francisco was a consequence-free place to engage in low-level crimes [and some high-level], which simply encouraged more crime in the city generally."
For me, probably the best measure of Jenkins's promise as DA is the reaction of the San Francisco Police Officers Association (SFPOA) to her appointment. On July 7th, the SFPOA released a: "Statement on the Appointment of Brooke Jenkins as SF District Attorney."
The statement reads: "Newly appointed District Attorney Brooke Jenkins is a qualified, competent, and compassionate prosecutor who will allow San Francisco to turn the page from the previous criminal defense attorney masquerading as the DA. We urge Ms. Jenkins to fairly hold criminal offenders accountable, provide compassion for those in the criminal justice system who need and deserve it, and to strongly protect and assist crime victims seeking justice. We all want a safer San Francisco, and we are committed to doing our part." [italics original]