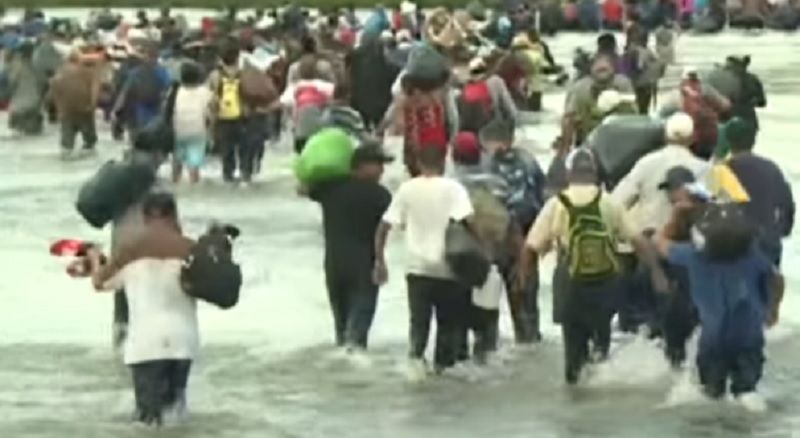 By Steve Pomper
While the current federal regime pretends the border is secure after it's allowed millions of illegal aliens to swarm the U.S. southern border with Mexico, the onslaught against innocent Americans continues. And they expect U.S. law enforcement to just handle it (without allowing them to enforce existing laws.
According to the New York Post, a suspect who'd been "on the run for allegedly killing five people inside their Texas home has been identified as a Mexican national who was reportedly deported four times."
Tulsa World reported that, after days on the run, Texas law enforcement along with the CBP BORTAC unit captured Oropesa. Authorities said "the coward" was found hiding under laundry in a closet. Law enforcement also announced several other arrests for aiding the fugitive.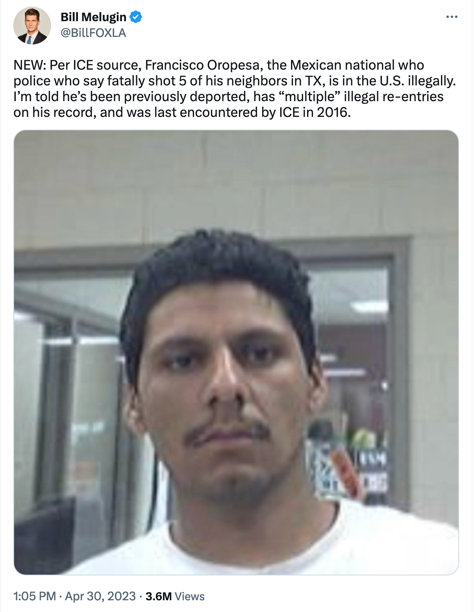 Francisco Oropesa, mass murder suspect
ICE says it deported Francisco Oropesa, 38, four times in 2009, once in 2012, and again in 2016. The Post reports his current immigration status is "unclear," and they're unsure when he returned to the U.S. (we can guess his status).
A manhunt of over 250 cops was conducted after "he fled the bloodbath inside the Cleveland home, about 50 miles north of Houston."
Oropesa was reportedly intoxicated while allegedly shooting a gun from his yard. Initially, they were upset the gunfire woke a baby and complained to Oropesa about it. They called the cops when he refused to stop. A neighbor, Wilson Garcia, whose wife and son were murdered, called the police five times.
The Post reported that before the cops showed up the suspect arrived at the front door "armed with an 'AR-style rifle.'"
Incidentally, this should disabuse anyone who argues against Americans' Second Amendment self-defense rights. After Garcia told his wife to get inside, wrongly attributing humanity to this animal, she told her husband the suspect wouldn't fire at a woman. Tragically, she was wrong.
After killing Sonia Guzman, 25, Oropesa allegedly killed Garcia's son, Daniel, who'd tried to protect his mother; he went on to execute "Diana Velazquez Alvarado, 21, Julisa Molina Rivera, 31, and Jose Jonathan Casarez, 18."
This heinous crime, reportedly committed by, Oropesa, a multiple times deported illegal alien, is not an isolated event.
Also reported the same day, there was another manhunt in progress some 1,250 miles away. As reported by Breitbart, "A manhunt is underway by local, state, and federal officials 26 hours after one of two illegal aliens, accused of murdering K9 officer and sheriff's deputy Ned Byrd last year, escaped from Piedmont Regional Jail in Prince Edward County, Virginia."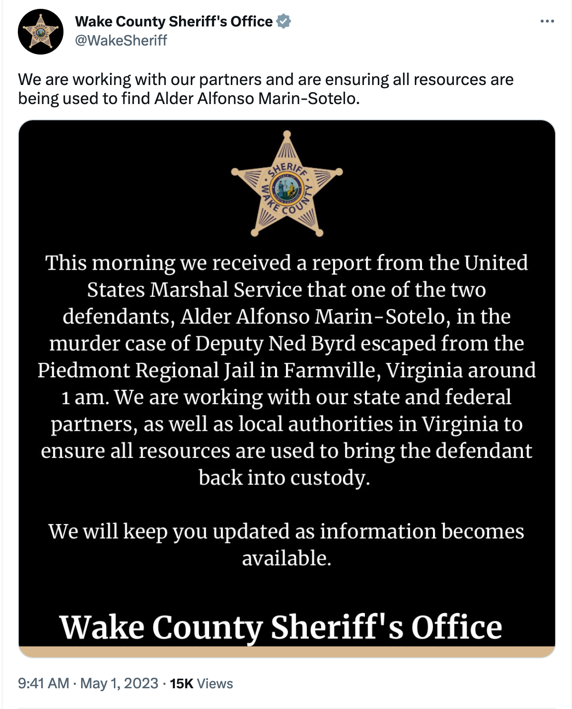 In August 2022, "Illegal alien brothers Alder Alfonso Sotelo and Arturo Marin Sotelo, both from Mexico, were arrested and charged last year with the murder of 48-year-old Byrd after he was shot and killed on August 12, 2022, while exiting his unmarked patrol vehicle."
While this is no laughing matter, sometimes cops use a gallows humor to keep from going crazy. In this spirit, I'm looking into rumors that before the illegal alien, alleged cop-murderer escaped, Alejandro Mayorkas was seen on surveillance video leaving the jail after bringing the suspect a cake with what appears to be a hacksaw sticking out of it.
And here's yet another atrocity committed by an illegal alien. In 2017, Supervisory Special Agent Carlos Wolfe, distracted by his phone, got into a one-car collision on a Maryland freeway. While waiting for police to arrive, another man, State Deputy Fire Marshal Sander Cohen, stopped to assist.
On her FOX News show The Ingraham Angle, Laura Ingraham reported that Agent Wolfe and Fire Marshal Cohen were struck by a car. Cohen was thrown over the median and struck by another vehicle. Both were killed.
The driver of that car was Roberto Garza, who allegedly struck and killed the law enforcement officers, is reportedly in the U.S. illegally. Shockingly, Garza was only charged with negligent driving and was fined $280.
Cohen's wife told Ingraham, at the time, their "son had just turned 7 and… daughter was 2 years old. She said it is shocking "for her to see this continuation of not only an open border [but] a president who doesn't accept responsibility… who… has allowed [this] to happen."
We'll conclude with a story as tragic as the others but with a ludicrous component that rivals that of the "border policy." An illegal alien allegedly killed a cop, striking him with the construction equipment he was operating.
Again, from the New York Post, "An illegal migrant driving a front-end loader allegedly struck and killed a veteran Florida deputy before fleeing the scene… — prompting a frantic manhunt that ended in the suspect's arrest."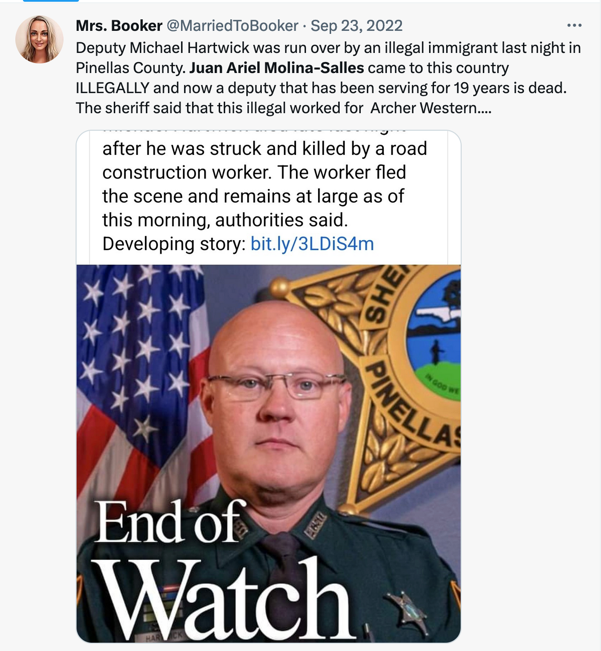 At a press conference, Sheriff Bob Gualtieri said Pinellas County Deputy Mike Hartwick was directing traffic at a construction site. Dep. Hartwick was placing cones to block traffic lanes, when 32-year-old Juan Ariel Molina-Salles reportedly struck the deputy with a tractor, killing him.
Construction front-end loader
The suspect drove the tractor a quarter mile before he called a co-worker, "crying" and confessing that he "just killed a deputy." Molina-Salles hid for nine hours before police with K9 bloodhounds located him.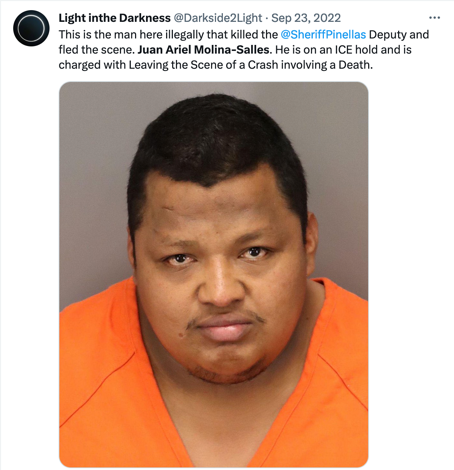 Juan Ariel Molina-Salles
Sheriff Gualtieri said, "This guy that we have in custody is here illegally, and he fled, as he said, because he became afraid after he killed the deputy." Reportedly, the suspect initially provided a false name.
The sheriff's office reported the suspect entered the country illegally in 2021, but CBP had deported him. During the investigation of the deputy's death, investigators found no record of the suspect entering the U.S. legally.
Hindering the investigation, the sheriff said, "This company is employing a bunch of illegals, and they are all out there lying and giving us fake names, fake IDs, a lot of fake IDs out of North Carolina that really frustrated this investigation."
As many have pointed out, when illegal aliens commit crimes, they're inflicting suffering that the victims and survivors should not have to experience. Sheriff Gualtieri added, "He didn't have a driver's license. He's got nothing. He shouldn't have been here… and he shouldn't have been driving. He shouldn't have been working… He has no qualifications to drive a front loader."
But some people don't seem to get that. Martha McCallum on FOX News Channel, as reported by Hot Air, had a heated exchange with illegal alien apologist Geraldo Rivera:
Rivera said, "This is a tragedy, but we mustn't blame the entire illegal population for the terrible acts of one monster." Leftists always do this. Conflate the specific with the general.
McCallum said, "I'm not blaming all of them. But the fact remains that Mollie Tibbetts's death was avoidable because the killer shouldn't have been here." How is that so hard to understand?
Rivera, without listening to his own words said, "What about all the American citizens who murdered people this week?"
What about them? There is always more tragedy associated with the preventable. If the person isn't here, he or she cannot commit the crime.