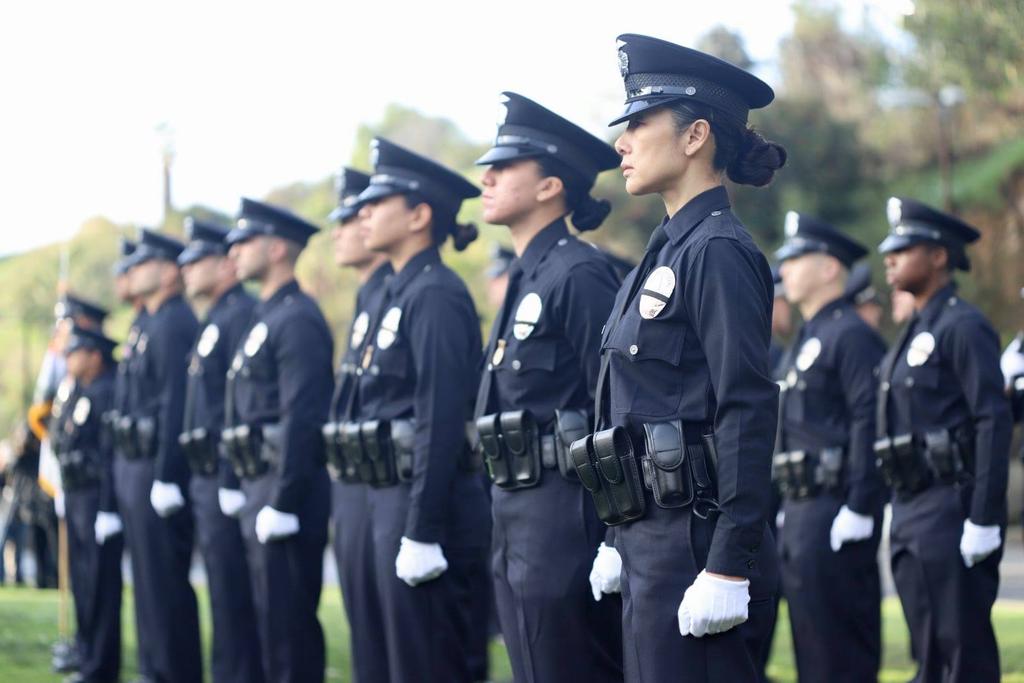 As we enter 2021 with the anti-police rancor still wafting and a new commander-in-chief supplanting the former law-and-order president, it is astonishing that through it all…our nation's law enforcement officers who took tons of heat, ridicule, criticism, and hatred unwaveringly report for duty and help mete-out societal woes—as best they're permitted (Google mayors in Portland, Seattle, NYC, and Atlanta for starters).
Despite a tsunami of hatred, they kept coming back to the frontlines where additional resistance/lawlessness was not only present but also harped by elected officials bull-horning the very same rhetorical seeds sowing nothing even remotely resembling what seems to be the new fave word of the present party: "unity."
Not too many weeks ago, with dubious circumstances in tow, Mr. Biden was elected to occupy the Oval Office and started penning executive orders going against the recently fortified immigration-law grain. ICE and Border Patrol agents dutifully holding the line at the southern border must've been deflated after reading Mr. Biden's proclamation walking back our nation's border construction project—in effect defaulting on national security interests, no fault of the LEOs who have stood as guardians of the gate. Not much unity in that one fell swoop directive.
About stopping the border wall construction, Mr. Biden said, "It is a waste of money that diverts attention from genuine threats to our homeland security." Huh? Citizenship mean nothing?
As former Department of Homeland Security (DHS) boss Chad Wolf retorted, "Is it going to make our law enforcement officers at DHS…is it going to make their job more difficult?" I believe he was stating that in a rhetorical sense.
Listen to Cochise County Sheriff Mark Dannels articulate on behalf of law enforcement how the "political theatre" playing out threatens not only American soil but all of the police officers who dutifully operate upon it on behalf of U.S. citizens:
One need only reminisce how awful it was before Mr. Trump started funding border construction and equipping border agents accordingly. With the recent reversal, our border cops are once again having flashbacks—unpleasant ones.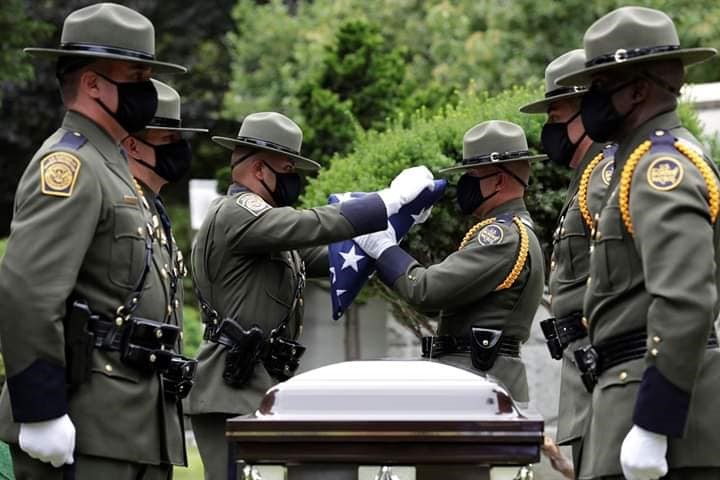 Yet, they continually present themselves in roll call rooms and hear out the order of the day and implement efforts to thwart tides of illegal immigrants and perilous cartel figures as best possible—in this case, once again trying to do far more with much less.
Unity is endemically paramount with those who are bona fide recipients of our Constitution's promises. Among those promises are rights to virtuous dividends unimpeded by criminal elements, the round-up of which is relegated to law enforcement personnel. Yet fever-pitch calls to defund the police and abolish the police and do away with ICE go unmitigated and serve as mortar for nothing having to do with decency and harmonious togetherness. Where one president trumpets law-and-order and the police mission of surety, another is largely meek about the anti-cop murk.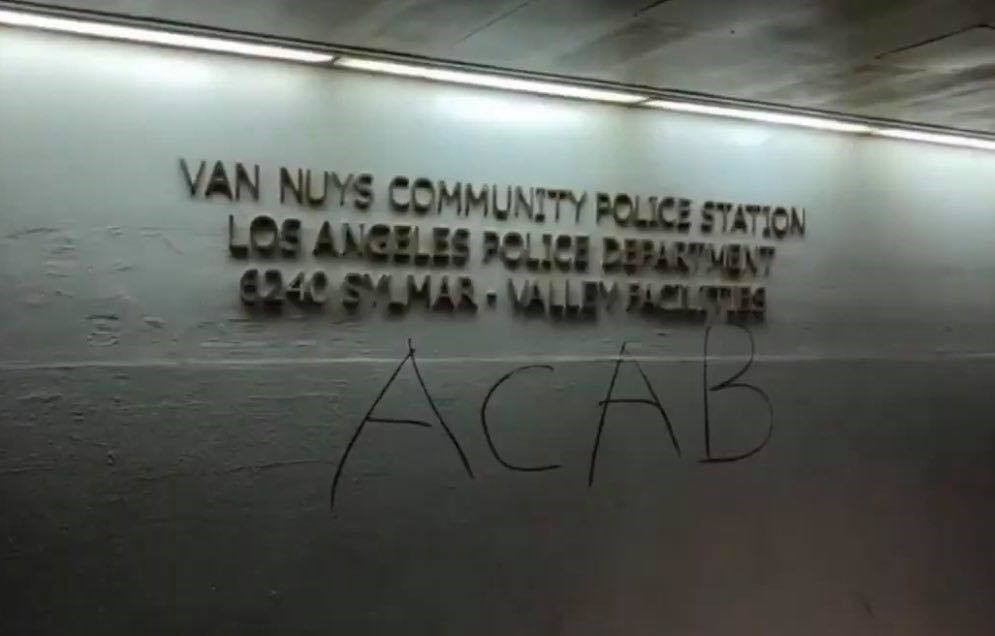 Again, so much for the calls for "unity." But, guaranteed, cops show up and staff the trenches amid many who are much more in divorce mode than unifying.
And cops are probably the least likely stranger to officials' claiming unity when the opposite effect is continually evolving before our eyes.
A trending news story caught my eye this morning in which two lawmakers working at our nation's Capitol engaged in an unambiguously divided stance, one actually relocating her office away from the other. Unity? Capitol cops must be doing plenty of SMH over this tidbit.
Our House Speaker reportedly stated, "The enemy is within the House of Representatives, a threat that members are concerned about, in addition to what is happening outside." Unity? Nevertheless, no matter who is bumping heads, Capitol police are there for duty—to calm bloated egos inside and mitigate matters brewing outside.
Since we touched upon the Capitol corral, another news piece describes Capitol Police implementing (and considering permanent status) perimeter fences to bolster security measures after the blackeye sustained from the January 6 Capitol debacle. Some legislators support the extra measure while others are offended by the idea. Still, capitol cops are there to defend federal employees, visitors, and U.S. property.
Nothing new for Capitol cops; law enforcement beefs-up security as intelligence gathering and climactic tempo dictates, whether at government buildings/sites or Anywhere USA. Capitol Police and the U.S. Capitol acting sergeant-at-arms Timothy B. Blodgett admonished lawmakers intending to travel to consider security measures in advance and to take precautions.
Blodgett recommended legislators get to know their airport police departments (per their itinerary) so that preparations can be made. As our title indicates, cops anywhere are already duly trained and positioned…and a heads-up never hurt, especially with those deemed dignitaries traversing in a not-so-united climate.
Seems this unity thing may take some time to meld.
No matter how we define it, whether unity or another cognizant-rich concept, Dana Loesch said it best when she suggested supplanting unity with "civility."
After all, isn't that what anyone anywhere on our global sphere expects and wants to thrive and flourish in their native land? Our society certainly knows the concept of civility—practicing it seems, well, out of practice. Again, the presence of cops attempts to usher in the assurance of civility—theoretically.
On his show on Friday, Dan Bongino, a former law enforcement officer, justly filleted the suited barracuda chomping at the bit with utterances of unity. Mr. Bongino lashed those who about-faced after encouraging the many months of mayhem caused by rioters, underscoring the hypocrisy and Us v. Them factors, citing a "bifurcated society." Give it a listen; Bongino goes full-bore on what we have been bearing witness to: Law-enforcement always smack dab in the middle of all things counterintuitive and disunifying.
Our beloved nation has law enforcement practitioners to mediate, provide alternatives, offer resources, and ultimately quell upheaval from those whose personal constitutions deviate and swing wildly at team-playing principles.
The adage "Actions speak louder than words" is certainly necessary now more than ever.
On Inauguration Day, both Portland and Seattle, the hotbeds of anarchy lately, saw more uprisings whereby police personnel were expected to save the day. Shamefully, our cops did not necessarily have unity from their respective elected officials.
In New York City, another tumultuous environment unreeled by its elected leaders and their typical hands-off admonitions to NYPD warriors.
So, what gives? What's the basis? What is the new administration doing to abate the ongoing anarchy in mostly Democrat-oriented locales? So many lingering questions surround our nation's tempo.
But one answer remains crystal-clear: law enforcement professionals maintain the mission of upholding constitutional rights and, as best possible, ensuring the essence of life, liberty, and pursuit of happiness (even if some elected officials seem to be exhibiting contrarian influence).
What's going on lately is bizarrely unreal. Our country's institutions fashioned to ensure protection are being juggled like bowling pins, and little regard for the stack is considered. Besides police officers, I am referring to the military members as well.
Look at the tens of thousands of National Guard troops deployed to safeguard the Capitol and the elected officials in it. As the Inauguration transpired without wrinkle or wrangle, troops were relocated to the cold concrete grounds of a parking garage. A parking garage! Only after word got out and the public was made aware via media reports did Congress re-invite (unity when PR is concerned?) security personnel indoors and offer hospitality for putting their lives on the line.
Many of those troops are also law enforcement officers who, when not called up, serve respective locales around the country.
Besides the National Guard contingent, many cops from locales across America were also on loan to the security effort. For what it is worth, in contrast to what U.S. governmental hub occupiers responsible for displacing our soldiers, Mr. Trump extended hospitality for hundreds of police personnel in his DC-based hotel:
Kambree on Twitter: "Trump is a man of his word. Trump Hotel in D.C. https://t.co/Mjf71bFPc8" / Twitter
A cohort with the Virginia State Police was one of the many cops called from another jurisdiction to help protect the Capitol. He shared how D.C. was abuzz with police officials protecting and serving. There is good reason the Inaugural events were diplomatic and uneventful: Cops answer the call, as usual.
As the NYPD's Detectives Endowment Association posted after another upheaval involving protesters at City Hall Park: "They're back! Let's see if our feckless elected leaders put an end to these so-called [peaceful] 'protests' before they begin to occupy City Hall Park again. New Yorkers don't want a repeat of that dangerous unhealthy incident."
Well, the feckless elected leaders to whom he refers did their usual: they warmed their hands in pockets.
NYPD blues formed up and arrested dozens, according to the New York Post report.
Story after story, nothing but the tradition of law enforcement officers suiting up, hitting the streets, and maintaining law and order is the staple ingredient without fail.
But this unity thing?
Recently among police retirees, the consensus is bleak, with many philosophizing that a certain political platform and their mostly anti-cop mouthpieces are going to make 2021 look like 2020. We shall see…
Either way, no matter how 2021 plays out, rest assured all law enforcement officers will respond as per usual, no matter the year, time of day, or purpose—perilous or innocuous, they'll be there like chrome on badges.
One such example is Falmouth, Maine police Officer Steve Hamilton who (ironically) retired on January 6, 2021 after serving for four decades. A whopping 40 years of public service as a cop, exemplifying again and again that it is often in one's blood to be a police officer and show up daily to do mostly dirty work.
According to the Press Herald, Officer Hamilton mused over a public safety career since childhood.
"I made up my mind at probably 13 or 14 that that's what I wanted to do. My parents knew some Portland [Maine] police officers when I was a kid and I met them and it really took hold."
For clarity, Hamilton actually policed his community beyond 40 years. Before starting his tenure of 40 years at the Falmouth PD, he worked as a cop at two other police agencies from 1977 thru 1980, before being sworn in at Falmouth.
One can easily imagine what he has experienced over the storied course of his law enforcement stint, throughout a mixed bag of administrations, culminating in an era of incessant anti-police sentiment from some corners of the nation. Nevertheless, he booted and suited every day and did the job.
As fate would have it, during the final edit of this article, an informative police-centric story arose in which famed actor Denzel Washington was being interviewed about his newest movie role. Mr. Washington summed up our subject matter by saying, "I have the utmost respect for what they do, for what our soldiers do, that sacrifice their lives. I just don't care for people who put those kind of people down. If it weren't for them, we would not have the freedom to complain about what they do."
Pretty succinct. Quite accurate. Definitely worthy. Cops showing up right now, in police roll call rooms around the America, have every reason to hold their heads high while serving their respective community.