School districts across the country seeking to completely eliminate or significantly diminish the role of law enforcement personnel assigned as school resource officers are doing a huge disservice to students, in effect trading off kids' welfare for a stake in the illogical anti-police thrust.
In May 2021, the City of Alexandria voted to nix their SRO program and its funding for five officers assigned to Alexandria City Public Schools, impacting approximately 16,000 students.
In seemingly copycat fashion, on June 24, 2021, the Arlington County Public School Board in Virginia finalized the fate of their school system with a unanimous 5-0 vote in favor of prohibiting school resource officers from all of their 41 schools, welfare of the roughly 29,142 students be damned.
What anyone can reason is an emotion-based move, a Fox News report on the Arlington Schools decision used the word "permanently." Since when did student safety become fixed-price at wholesale?
The Arlington County Public School Superintendent, Dr. Francisco Durán reportedly stated that the decision to remove all police from their school system is not about money. That $3 million tab is a drop in the bucket given their FY 2021 budget of $670,274,629. Nope, it's not a money issue at all.
Besides, the school district is not even the entity to pick up the tab, Arlington County generally does that. (In my jurisdiction, the school board and the police department split the cost on everything SRO, including cruiser purchases.)
According to a Washington Post report, "It is not yet clear where officers will be located come fall. Durán said he will work closely with Arlington's police chief over the summer to hash out the details."
Superintendent Durán also said "the role of SROs will be retooled: Officers will connect with students in more informal recreational and educational settings, during evenings and over weekends." Huh?
With the defund-the-police drumbeat deafening otherwise peaceful tempos, school systems in Denver, Minneapolis, Los Angeles, Seattle, and Portland, to name a few, also knee-jerked students' safety and security by either altogether eliminating police presence or downsizing budgets for effectively staffing schools with highly trained SROs.
All references I found regarding the above actions pertaining to SROs stem from the death of George Floyd in Minneapolis; the notion that all of law enforcement is punishable because of the inexcusable action of one is drastically misguided.
You've heard it before…and your intelligence affords clarity and large plausibility that doing away with cops at schools invariably invites bad actors.
The many active shooters exacting terror and bloodshed at schools across the nation is apparently escaping the feeble minds of the school board members who wrongly decide to go it alone, without keen eyes and special training and stopping power of law enforcement officers, many of whom have respectably become like surrogate figures for many youngsters trying to navigate life while in a learning environment. Or, as a tenured SRO I worked with put it, to "stand in in the absence of one or both parents."
Moreover, kids have plenty to worry about thanks to a COVID-induced derailment of norms and basic expectations (such as peace of mind provided by police personnel). We simply can't afford to shortchange kids, ever.
Writing for Fox News, Eric Lambert reported, "D.C., Montgomery and Prince George's counties have all had conversations about proposals for police-free schools, but no decisions have been made there."
Before they also go willy-nilly down the rabbit hole, perhaps the school boards in D.C., Montgomery, and Prince George's counties may wanna take a gander at a school district which supports their entire student population and emphasizes how kids have grown to admire SROs.
I noticed one other thing about Arlington's decision, leaving one to infer they know their vote may not go over well: the Arlington School Board proclaimed that law enforcement officers would still be patrolling the jurisdiction where schools are located. Naturally.
But…God forbid one or more bad actors, armed like active shooters always are, traipses on campus and into any number of school buildings occupied by unsuspecting students deserving of a safe environment in which to blossom the brain.
Superintendent Durán mainstayed notifying police when emergencies erupt (read: delayed response since SROs are no longer already present to preclude/mitigate exigencies) and for other matters when requested.
No matter the implied concessions, regardless of the ostensible olive branch, Arlington County cops are going to do their darndest to respond posthaste when summoned and presciently dial in before catastrophic circumstances erupt—the usual.
With myriad depictions of well-loved Arlington County police officers serving their community beyond measure, it defies logic to prohibit them in any manner, school or otherwise.
It is bewildering to think that any school anywhere USA is deemed good to go alone; all this is summed up by one word: Columbine.
Deputy Police Chief A.J. DeAndrea in Arvada, Colorado, called Columbine "the watershed moment when we start to talk about active shooters," denoting how the gunmen were unimpeded, already inside, and only focused on murdering students.
One excerpt in that brief video is when Deputy Chief DeAndrea states that without law enforcement presence on campus, by the time SWAT gets there, it's already too late.
How soon some forget, namely school districts responsible for ensuring student safety.
The inverse to all this anti-police nonsense transcending some school systems haphazardly weakening defenses is what transpired in Hernando County, Florida, when a long-tenured, deeply cherished deputy who retired on June 18, 2021, was met with unambiguous adoration and love from thousands of students, faculty, and staff at Springstead High School.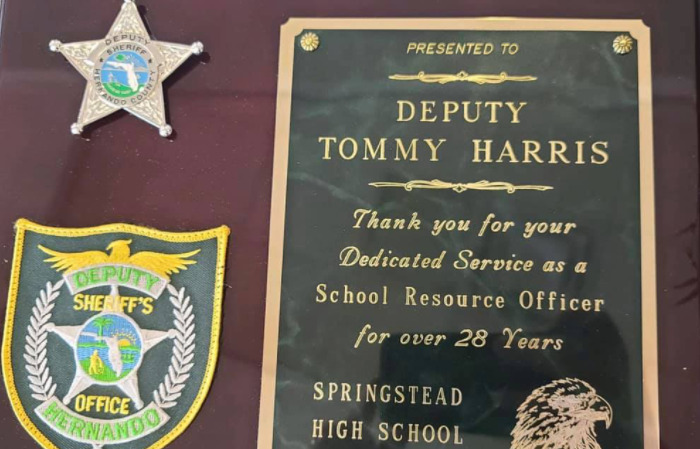 (Photo courtesy of the Hernando County Sheriff's Office.)
Punctuating his final day in a law enforcement uniform, Deputy Tommy Harris was met by a group of other Hernando County deputies (one of which held the cruiser door open), all embracing a tenured SRO who the student body grew to know as a go-to guy for any problem, a dose of wisdom, or just a fist bump.
There were as many tears as there were fist bumps and hugs between Deputy Harris and a mile-long reception of bodies flanking both sides of the school campus horse-shoe shaped walkway, leading from the main entrance to the roadside gate exiting onto a public thoroughfare, all while the school band played in the background.
Deputy Harris's heartfelt sendoff from hordes of students testifies to the robust nature of SROs serving among school districts around the nation. In Deputy Harris's case, he served the same school for 28 years. That's almost three decades, positively influencing many thousands of young lives!
Writing for the Hernando Sun, Sarah Nachin offered the following nugget: "A school resource officer is not just someone who makes sure that the campus is safe from internal, as well as external, threats; breaks up fights; or arrests students who commit crimes on campus. An SRO is also a role model to students and helps promote better relationships between the public and law enforcement officers. Some of the traits they must have is an even temper; patience; an ability to mediate arguments and fights; and skill in interacting well with children, adolescents and adults. You might say a School Resource Officer is a cross between a psychologist and a law enforcement officer."
A comment posted on the Hernando County Sheriff's Office page summed up how many feel about Deputy Harris's service to schools and school resource officers in general: "School resource officers make such an impact, especially when they get to stay at the same school for their careers. Generations of families are positively impacted. Awesome job!"
Hernando County is in Florida, a state whose Governor Ron DeSantis enacted public safety laws which stipulated outlawing nonsense behaviors other states allowed to fester, namely climates bannering "defund the police" and screaming "abolish the police" culminating in barbarism and anarchy.
Specific to our discussion, Gov. DeSantis fully embraced/signed the Florida Legislature's bill which outlined hundreds of millions for school security and student safety, establishing the role of "school guardians" to supplement the full-time school resources officers in school districts across the Sunshine State.
One line in a report by the Tampa Bay Times indicated a school district consensus, saying, "Many districts have said they prefer using law enforcement officers to patrol their campuses instead."
As well, jurisdictions in Florida even remotely entertaining defund the police measures have a statute prohibiting such recklessness, holding accountable/liable all sovereign governments in the state for harboring anti-police stances.
It comes as zero surprise that Florida is reporting masses moving into the state daily, notably folks from California, New York, and other locales where liberalism has rooted and decimated quality of life.
Just like kids being taught at schools, SROs are educated in specific ways correlating to America's educational systems providing safe and secure learning environments. As the National Association of School Resource Officers (NASRO) explained, "NASRO equips school resource officers across the country with the tools needed to be successful in school-based policing. SROs need to be more than a law enforcement officer — they need to employ a TRIAD approach, also serving as a teacher and a mentor for students they interact with."
SROs are heavily invested in the mission to ensure safety of all students and every inch of school property, largely vigilant to active shooter potential. SROs are keen to both external and internal dilemmas at schools.
I watched a docuseries recently whereby real-life families whose children were harmed at various public schools begged for changes before suing respective school districts for lack of public safety officials and for school administrations in denial regarding crimes perpetrated by students.
It is not pretty (youngsters committing crimes on campus, victimizing other students), but it is a stark reality we must acknowledge and mitigate. Zero cops on such free-for-all campuses naturally results in breeding grounds festering smaller crimes which, as many studies have indicated, leads to larger crimes and a life of victimizing innocents. Broken windows theory is synonymous with the aforementioned aspects traditionally curtailed by cops, when they are permitted.
Incidentally, one of the Arlington Public Schools strategic goals cited on their website claims "Healthy, Safe and Supported Students." Without cops, safety is weakened, not duly supported.
Another recent glaring example of how students admire and respect their SROs was witnessed via the reactions to the recent line-of-duty death of Arvada, Colorado police Officer Gordon Beesley. He served as a renowned and esteemed school resource officer and, on the day he was murdered, was working with the patrol division since the school year was concluded.
On June 21, 2021, Officer Beesley was ambushed by a man armed with a shotgun, who, per police intelligence, sought to solely kill Arvada police officers.
As that weeping woman stated about Officer Beesley, when around him, "you knew you were in good hands."
No need for cops at schools, Arlington and other school districts?
Students strive to engage academic studies and heap their knowledge base so as to conquer a climate of circumstances rife with uncertainty, and one static icon to lean on and garner guidance throughout the educational journey is a school resource officer. Seeing students through grade levels culminating in graduations, SROs are there.
Any school district buying into the defund/abolish police movements and scheming to absolve partnerships with school resource officers is depriving students of the sanctity, safety and security provided by law enforcement professionals whose compassion and skills are A+ across the board.