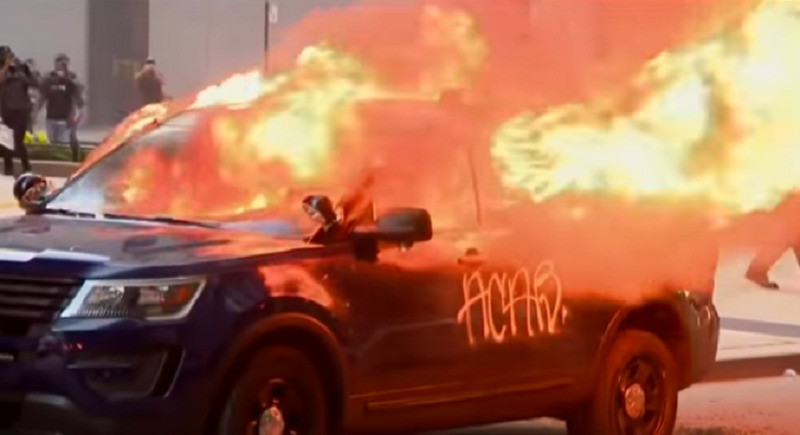 Gotta love research gurus and the time invested to unearth intriguing things, some of which are eye-opening and appalling. Such findings often redirect our course of action, encourage consideration of other options, and reallocate our hard-earned economy by patronizing entities which align with our personal values and beliefs.
Most often that manifests in one's spirituality supporting like-minded businesses and help organizations altruistically paying it forward.
But sometimes mega entities get it backward—and this is one everyone has heard of.
As it relates to my chosen profession and the values of and beliefs in the men and women who conduct it, I came across a shocking suspect whose gargantuan footprint entails peddling mischaracterizations of law enforcement and profiting from anti-police propaganda.
The clue in our title segues to a massive online presence whose drivers deliver goods right to our doorstep. An extra hint is that this same mega corporation recently evicted the conservative online site Parler for allegedly violating its terms and conditions.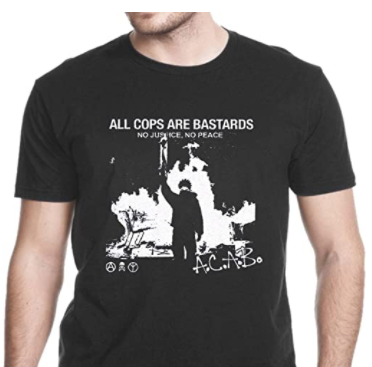 According to the studious staff and Newsbusters at the Media Research Center, they've busted everyone's fave supplier of things: Amazon is carrying a line of anti-police merchandise contradicting its policies stipulating that "Amazon does not allow products that promote, incite or glorify hatred, violence, racial, sexual or religious intolerance or promote organizations with such views. We'll also remove listings that graphically portray violence or victims of violence."
As well, Amazon's rules claim it is against "Products that promote, incite, or glorify hate or violence towards any person or group. This includes products that contain violent or offensive material that has no historical significance."
More than fair to say that those words are disingenuous and ill-enforced, especially with the likes of this (as of this writing):
And more than fair to say that those words are disingenuous and ill-enforced, especially with the likes of this propaganda still for sale on its website (as of this writing):
Accompanying the ACAB (All Cops Are Bastards) flag are the words suggesting where to stake such a hateful symbol, "Outdoor Banner, Home Garden Logo Banner (Home Flag, Garden Flag, Demonstration Flag, Family Party Flag)," worded by either a flag manufacturer and/or Amazon employee. Nevertheless, it's up for grabs by Amazon, policies be damned.
And I for one will be damned if I am ever in attendance at anyone's "Family Party" where this unambiguous, unspeakable message is waving in my face.
Incidentally, the depicted ACAB flag above flies in the face of the many dictatorial motorists, passersby, neighbors, and HOAs who readily bang drums while demanding Thin Blue Line flags be taken down.
Nothing like a unilateral message depicting unmitigated angst and misguided notions harbored by legions of self-blinded followers, eh?
As Fraternal Order of Police Jacksonville, FL Lodge 5-30 posted: "Keep telling yourself that the police are the problem if that helps justify what you think is wrong in the world. The rest of us will continue working on real solutions and our members will be willing to #SacrificeEverything to find those solutions" and "We have some ideas. And we know who isn't the problem."
Media Research Center sleuths found that "at least 204 examples of merchandise sold on Amazon that promoted violence, either toward President Donald Trump, Republicans or members of the police force," were still available when they put together this great piece of journalism, outing an oft-cited monopoly.
"And while Americans were outraged at the death of [Capitol] police Officer Brian D. Sicknick who was struck with a fire extinguisher at the Capitol riot, Amazon sells at least 130 pieces that condone that kind of violence with the hateful slogan ACAB (All Cops Are Bastards). That ACAB term is popular with rioting members of Antifa," wrote Alec Schemmel and Corrine Weaver.
That's at least 130 face-smacks for close to 900,000 police personnel who essentially swore to take a bullet for anyone, maligners included.
(Given the MRC published its report on January 14, 2021, and Amazon may have purged its anti-cop merchandise like they did Parler, I was doubly dismayed: it remains among its infinite supply of ugly wares.)
Are we enduring the era of unthinkable things and much more exposed behind-the-curtain improprieties stemming from failure/unwilling to conceive differences held by myopics huffily suppressing alternate perspectives? It seems so.
What boggles my mind is the boldness of publicizing rules, regs, and policies to govern while simultaneously violating their own so-called principles —right there in global view— as if humans can not decipher for themselves the hypocrisy and crystal-clear contradiction(s).
Headquartered in Seattle and occupying a very tall skyscraper which anyone can imagine will logically require police response for any manner of problems needing mitigation, the online giant is in an awkwardly hypocritical position of marketing merchandise decrying cops while at times may find itself crying for police help. Perhaps I'm wrong. Maybe they police themselves and offer how-to advice.
As the MRC cited, "Amazon is good at policing outside sites it doesn't like. It doesn't apply the same standards to itself." Sound familiar lately…like much throughout the last four years and mostly during 2020?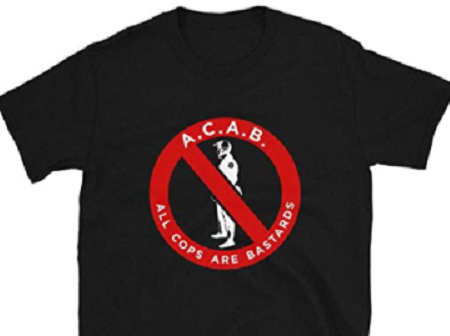 The researchers who brought us today's nugget exposing tarnish also found the following blatant hate:
"The Media Research Center was unable to find any products that advocated for the death of all Democrats," and were compelled to check after discovering "Kill All Republicans" shirts upon Amazon's choices. (Just checked the particular vendor who had that vile shirt for sale via Amazon, and their page is now gone—seems outing Amazon's hand in such disgusting commerce has resulted in them cleaning up their filthy act…well, only some of it.)
Anti-police paraphernalia remain. "[N]one of these warning signs from the left have stopped Amazon from selling merchandise that features police officers depicted as pigs, burning police cars, and a Simpsons police character with a knife protruding from his head. The gory images were emblazoned with the slogan ACAB," the MRC researchers exposed.
Nothing but a Prime example of hypocrisy stemming from either witting allowance of hateful products or woefully vetted merchandise options maligning our die-hard law enforcement professionals…while miscreants are infinitely massaged and messaged by enablers.
Prime Housekeeping: At press time, I rechecked the Amazon site and found most of the outrageous/propagandist merchandise unconvincingly prohibited by the online giant's fallacious policies have been removed since the outing/report by the Media Research Center—each link now portrays "the dogs of Amazon." Gee, how glib.
Shamefully, the litany of ACAB stuff is still up for grabs.
I'll stick with cops and mom-and-pop shops.