Every year, SWAT teams from around the world travel to a central location where police tactical skills and precision are exhibited and evaluated, culminating in a standout winner whose hard-earned points garner honors for superb law enforcement operations, all on full display at the annual SWAT Roundup International.
Bringing uber-talented police tacticians together in heated competitive ways, the SWAT Roundup International is a law enforcement venue offered by the Florida SWAT Association, hosting a "week-long competition event that tests the officer's abilities to shoot accurately, move dynamically, think 'on the fly,' and make hard decisions."
Given today's increasingly treacherous public safety climate, those descriptive attributes ring resoundingly necessary:
For the second year in a row, the SWAT team that scored bigly over many others in the competition is the Orlando Police Department's tacticians.
"On behalf of the men and women of the Orlando Police Department, and a grateful community, congratulations OPD SWAT team! You are truly serving your city with courage, pride, and commitment!" Those were the words from Orlando, Florida, police Chief Eric D. Smith, who has plenty to be proud of, especially due to his "internationally recognized SWAT team" and its exemplary skillset.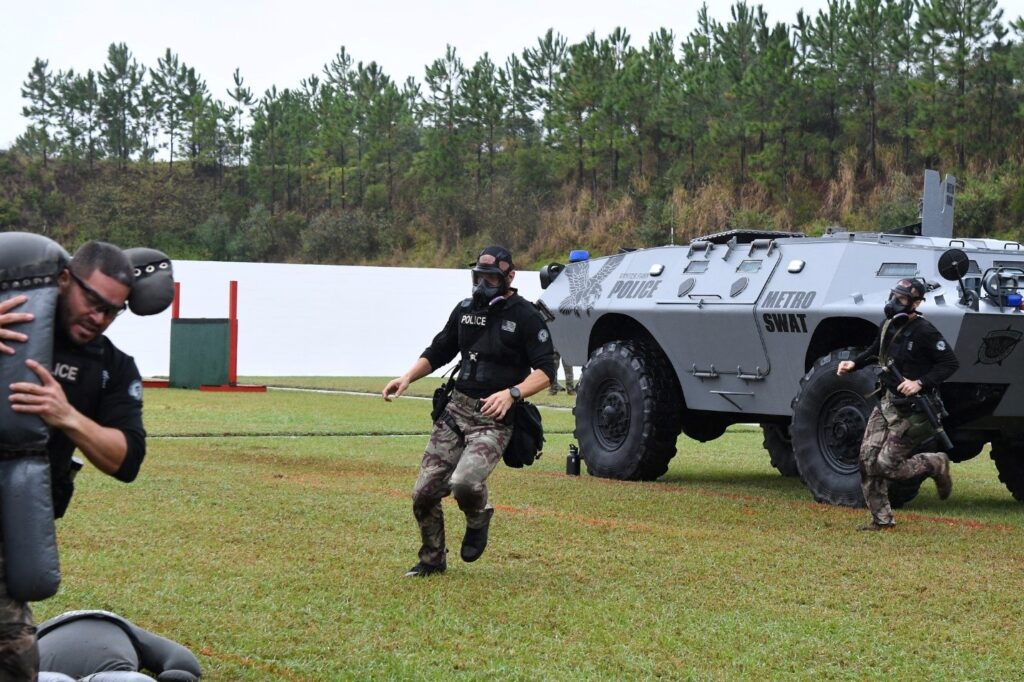 (Photo courtesy of the Orlando Police Department.)
Overall, 53 SWAT teams were competing for the trophies, but the bragging rights were coopted by each of the participants helping one other, despite the ultimate purpose of scoring the holy grail symbolizing SWAT excellence. Here are the Roundup results for top SWAT cops in several categories.
Following is a taste of the tactical finesse at this year's SWAT Roundup event, overseen by the red shirts whose eagle eyes analyze and evaluate each operator's performance:
As one SWAT team member said at this year's Roundup, "It's more than just a competition. And that's what we love about this event. That's what we love about seeing other teams, is everyone's willing to help each other out. Even though it's a competition, it's like I wanna win but let's grow the community… and in a positive way." There's the camaraderie among cops we talk of often.
Another SWAT operator lamented, "All these teams out here put in work year in and year out." It showed.
One prime example illustrating these SWAT officers' sentiments involved a SWAT team from Guardia Civil (Spain) and one of their police K9s. Akin to the synchronicity seen in Olympics events, the SWAT team is deployed behind protective shields while a K9 and its human handler mirror each other's advance movements before the "fur missile" is launched at the bad guy's position.
Pretty fascinating stuff!
While the SWAT Roundup International was action-packed and evolutionary in terms of teams' honed traits to get the job done, newer SWAT aspirants attend days-long testing of applicants desirous of a spot among their respective police agency's elite operators.
Given that the majority of law enforcement agencies in America are considered small in sworn strength, the massive Metropolis ones are atypically able to afford a full-time on-duty SWAT division to respond when the call comes in.
Smaller departments, with typical skeleton squads working the beat, can't necessarily afford a SWAT team waiting in the wings. Logistically, it may not even be warranted.
Modest-sized police organizations may not see the stratospheric statistical data enumerated by criminal activity that large law enforcement entities handle, so SWAT callouts are prioritized differently.
Generally, the workaround for small cop shops is to have their SWAT operators assigned across all squads and divisions (including the detective's unit) to respond from wherever they are whenever they are summoned (used to be pagers; now it is via cell phone, with a brief numerical code to suit up followed by a location to gather for briefing).
SWAT team members are proportionately sprinkled among all patrol squads and non-patrol units such as detective divisions. This way, no one particular batch is lopsidedly staffed and made unsafe for general police work (calls keep coming in) and jurisdictional coverage (presence). Balanced by design.
Take-home car policies help facilitate this design, should a SWAT officer be summoned to a scene when expediency is crucial; they phased out the antiquated method of first responding to police HQ to dress out, gear up, and shove off to the scene of escalated proportions. Logistically, SWAT officers' cruisers contain extra equipment (special weapons) deployable during non-standard incidents.
My department employs such a design—the trunk space is scarce. (Not a complaint: it's a joy to possess the requisite hardware to complete an extraordinarily dangerous mission as safely as possible.)
Any of our patrol officers wishing to also try out for the SWAT team —after meeting the basic requirements of time served on the beat and facets like military experience demonstrating relative skills toward candidacy— did so at occasionally held "SWAT tryouts" coordinated by tactical police associations growing the family by instilling sharp skills that fortify teams.
One example is the Texas Tactical Police Officers Association (TTPOA). They offer Basic SWAT testing and guide prospects along the route toward qualification/certification. Department SWAT commanders (or a designee or two) attend tryouts, observe performance, and scout out who they feel would be ideally suited members of the SWAT team.
The TTPOA (and others like it) reminded me of the SWAT Roundup International. I was compelled to go retro by reviewing SWAT tryouts. I reminisced about basic police work developing that certain can-do mindset and, eventually, being selected as a SWAT operator.
Many youngsters see the SWAT component of police agencies and get excited at the prospect. Rightly so. However, one must first become a patrol officer ("the backbone" of policing) and garner street experience—cutting teeth before chomping down on excessively rigorous work with success. Police departments set the minimum amount of tenure required (it varies among police agencies) before their officers can apply for a spot on the SWAT roster.
With dwindled police applicants nowadays (anti-police barkers caked on needless extra labor), law enforcement agency recruiters are out in force. "Courage Wanted" is the slogan on Orlando PD recruiters' vehicles.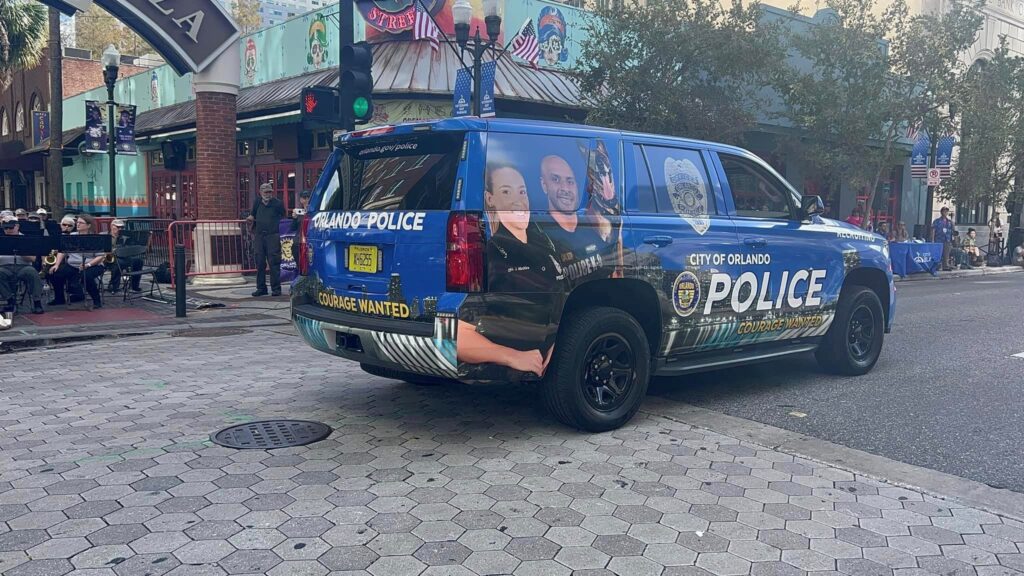 (Photo courtesy of the Orlando Police Department.)
Although the Patrol Division is the starting point and necessary stepping-stone (as mentioned above) leading to a role with SWAT units, Fresno Police Department recruitment vehicles have wraps around their autos, illustrating the SWAT component.
(Photo courtesy of the Fresno Police Department.)
Given the increasingly feisty and undeniably perilous climate in which cops now operate, discouraged candidates may consider a second peek after police marketing/recruitment efforts spark notions of challenging opportunities in the profession of saving lives and instilling public safety virtues.
We close with this nugget from the top SWAT cops at the Orlando PD:
"More than just a training event or pulse-pounding competition, SWAT Round-Up is a sum that is greater than its parts. The brotherhood you share with your teammates will extend to your fellow operators as you train, compete, and cheer each other on. The relationships you form here will be based on your shared values of loyalty, bravery, and dedication to saving lives and these bonds will last your lifetime."
Courage Wanted, indeed.