By Steve Pomper 
I've written often, in articles and books, about Seattle's now former (Thank God!) city attorney, Pete Holmes. I wasn't sure whether to use useless, worthless, hapless, or mindless as an adjective, but now former works just fine. Then I thought, all of those descriptors go without saying, anyway. I'll give just two reasons for my assessment (having worked under his cop-hating administration):
He seemed to prefer prosecuting police officers over criminals. And, he treated some crimes, like Driving Without a Valid Driver's License 3 Degree, according to social justice, not equal justice. It's likely, over the years, this taint has bled over to include filing guidelines for other crimes. But, with Holmes, who needs equal justice or even social justice when it's easier to deliver no justice?
Sadly, but not surprisingly, the newly elected (Thank God!) Seattle City Attorney Ann Davison, a Republican (which is rarer than a Sasquatch sighting in Washington State), has experienced anything but hospitality from her fellow elected city officials.
The Seattle City Council started working against the new city attorney before she'd even spent a day in her office. In December, the city council introduced a bill that would remove case prosecution decisions from the city attorney.
This legislation would require the city attorney to get the city council's permission to prosecute any criminal. In other words, she'd need permission from other elected officials to do what the voters specifically elected her to do.
Davison noted, "In the over 100-year history of the City Attorney's Office, none of my male predecessors faced a single preemptive move by Council to establish additional reporting requirements and restrictions on operations in the two months before they took office."
Now, as reported by KING 5 News, aside from the city council bullies, Davison is also haunted by the former city attorney, Pete Holmes, who's reaching out from the political grave, handing her a backlog of some 5,000 unfiled criminal cases.
Katie Daviscourt, at the Post Millennial, wrote, "Police handed these cases over to Pete Holmes but they were never looked at by the lenient anti-prosecution prosecutor." A very astute observation and assessment.
While I was still on the job, an interim police chief personally handed over two dozen cases for prosecution to Pete Holmes. These involved some of the most chronic offenders of Downtown street crimes. Holmes declined to prosecute.
The Seattle City Attorney's criminal division prosecutes misdemeanors and gross misdemeanors. These involve assaults, including domestic violence, DUIs and other misdemeanor traffic crimes, thefts, criminal trespass, property damage, pedestrian interference, etc.
Despite the petty obstacles put up by the city's soft-on-crime city officials, Davison says she has a plan. First, she says, "her office will make filing decisions on all incoming cases within five business days of receiving the case from the police." She feels this is the best way to "immediately tackle crime" in the city. Seattle's cops agree.
Davison says there will be no more relegating new cases to the "back of the line" regardless of the severity. She noted the longer a case waits, witnesses forget facts, change addresses, or no longer wish to cooperate.
Councilman Andrew Lewis, formerly of the city attorney's office under Holmes, said he agreed with Davison's moves. But he obscured his "agreement" with leftist gobbledygook about the issues being "complex," which they are not—unless you need the issues for things like reelection campaigns.
Here's a photo on Twitter, posted by Lewis of him and other city councilmembers mustered near the Seattle Police Department's East Precinct to support BLM and Antifa militias, which had the precinct under siege. They're posing from inside former Mayor Jenny "Summer of Love" Durkan's now-defunct CHAZ/CHOP (or, if you prefer, Durkanistan) insurrection zone. You can  judge the quality of Councilmember Lewis' opinion—on anything.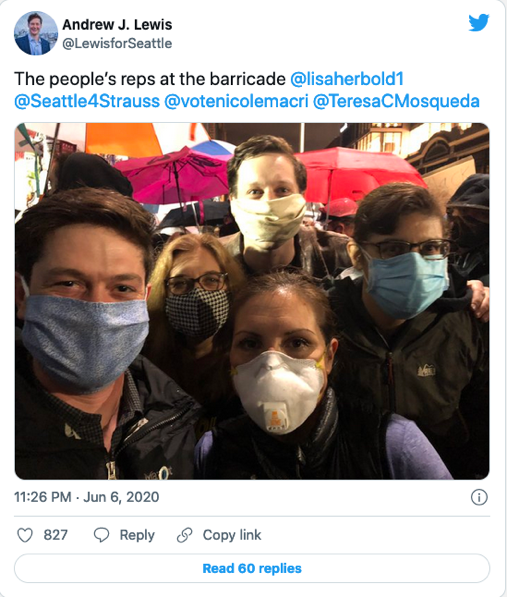 Davison is spot on when she says, "The best way to interrupt crime happening on the streets today is by quickly and efficiently moving on the cases referred to us by the Seattle Police Department" (YES!!!).
She added, "I am confident that we have made the operational changes necessary to support this action, and I know my attorneys and staff will work hard to make sure we meet these new filing deadlines in service to our city."
Davison has also approached Brian Moran, President Donald Trump's former U.S. Attorney for the Western District of Washington. Biden has since dismissed him. But what do you expect, Moran committed the unforgivable "crime" of actually prosecuting criminals?
She's requested his assistance with prioritizing the criminal division to help clear cases and to help increase hiring qualified staff. Davison says this is just a first step toward clearing feckless Holmes' reckless backlog.
Oh, and here's a fun fact: Republican Ann Davison is the first woman ever to be elected Seattle City Attorney. Yet, there have been no celebrations or accolades being heaped on her by this city's normally ubiquitous, feminist, activist left. After all, Davison is a magnificent example of a woman achieving astonishing political success in a major American city.
Makes you wonder, right?
No?
Me either.